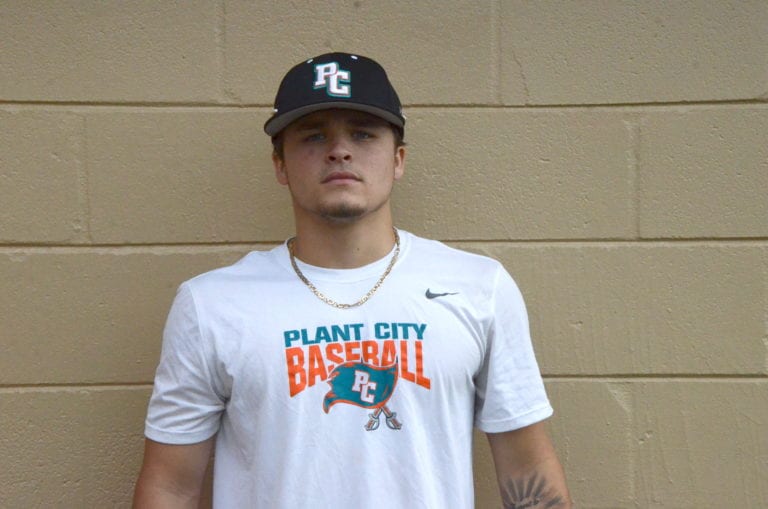 Jarod Wingo pitched a near-perfect game against Alonso last week.
Jarod Wingo, Plant City High School's ace, showed exactly why he earned the job in the Raiders' Feb. 18 season (and home) opener against Alonso. Wingo struck out 16 of the 22 batters he faced through seven innings and came extremely close to throwing a perfect game, settling for a no-hitter after the Ravens reached base and scored on two fielding errors in the seventh inning. Luckily for Plant City, which held a 2-0 lead going into that inning, Wingo wasn't rattled and finished the job. He also had an RBI in the game.
Know someone who deserves to be Athlete of the Week? Email Justin Kline at jkline@plantcityobserver.com by the Friday before the next issue.
You came so close to a perfect game. How were you feeling that night?
When I was in the bullpen, I noticed everything was feeling good. I was a little bit sore but I knew my pitches were working, so I was like "Maybe this will be a good game." After the first two innings I noticed the slider was working, the cutter was working and the fastball was working. I was hoping I could go all seven (innings) and I did.
As someone who just won a state championship last season, what's been your mindset going into this one?
Win. That's all we want to do. We want to go 1-0 every game. That's the whole goal. We just now went 0-1 (Feb. 20 at Bloomingdale, a 6-3 loss), but it happens. It's baseball. Everybody's gonna lose. In Hillsborough County, a lot of teams are 1-1 right now, so it's not a big problem to us. But the main thing is to hop back on it and forget about the L.
Where do you think you've improved the most since last season?
My hitting has been a lot better since last year and I feel really good at the plate now. I'm taller than last year, I feel like I can rope a ball this year, my swing feels good and I'm looking at curveballs good.
How do you feel about this year's team?
I feel like last year was obviously a strong team with good chemistry, but the seniors that have come up this year have worked their butts off and they're ready to play. I feel like it's gonna be good.
Which games are you looking forward to most this season?
The Sickles game, they're always a competitor and they beat us last year, it got taken away (The Gryphons had to forfeit their win) but they're a big team to play.
What are your goals for this season?
To bat over .300 and have no losses pitching.
Who on this team might be an unsung hero and make an impact this year, but doesn't get a lot of spotlight?
Our starting shortstop right now, Tre Ragan, I think he's gonna make a big impact filling in for Alex Rodriguez until he's back.
What are your college plans looking like right now?
I think I'm gonna stay home, stay local and go to HCC. I'm planning to see how I do in the first year and later stay local, maybe USF, UCF, FAU or FSU, whatever's close.
How do you get ready for a game?
I run up to the RaceTrac and get my daily blue Gatorade and Snickers bar. I come back, put my headphones in and it's straight from there.