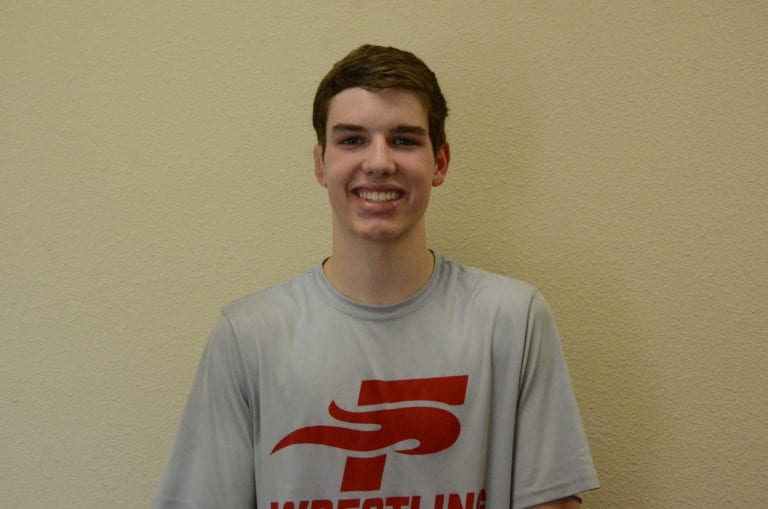 Haley was the only Plant City-area wrestler to win a regional championship over the weekend.
After a second-place finish in the FHSAA wrestling district tournament, Hendon Haley (45-6) went into last week's regional tournament determined to do better. He came through in a big way: Haley won the 132-pound championship by beating Ryan Bennett of Freedom by 10-0 major decision. Haley will now compete in this weekend's state championship meet and hopes to be the second member of his family to at least place there.
Know someone who deserves an Athlete of the Week feature? Email Justin Kline at JKline@plantcityobserver.com by the Friday before the next issue.
You lost in the district championship but won at regionals. What did you do differently the second time around to get the win?
A lot of it's my mindset and preparation before my actual match. I usually go through this routine ahead of time but in my district (championship) match, I didn't have time to do it before then. As crazy as that might sound, it really does make a difference. My routine is, you get a good warm-up to where you start breaking a sweat, then you hold that sweat right until you go up on the match and you wrestle from there. I have all four of my brothers always there, they rotate in and help practice and warm up with me before my match.
What are you looking forward to about going to states?
The good thing about this year is that after states, I'm not done. I still have another year… as long as I go out there and do what I know how to do, I should be good and hopefully place. I'll still have another year on top of that to hopefully win it. That's the goal. We'll see.
You've got a strong support system with your coaches and your family also having a lot of experience on the mat.
And my brother (Austin Haley), he's an assistant coach. He's a chemistry teacher at Durant now and he's trying to be an orthopedic surgeon… he's helped me tremendously.
What's your strongest attribute on the mat?
I'd say the thing that's helping me most is knowing what I need to work on 24/7. It all ties back to my brothers and everything they're helping me with. That Kathleen match that I lost in (2019 district finale), it was conditioning. I needed to be quicker. After eight and a half minutes of wrestling you need to be able to stay on top of things. I run more and things like that to keep my agility and endurance up. I'd say my strongest suit is probably my technique. I'll go against way stronger guys than me but because I've been in the sport for so long, I know what to do in basically every situation. It really helps me out to know what to do.
What's your proudest moment as a wrestler?
Regionals. My brothers, I've been watching them for so long and they have done so well in that tournament, too. It helps to know that I'm up there with them because I really look up to them. They're great supporters to me. That's been my goal all through when I was younger. I started watching Chase when I was 7 and that was my goal — his senior year, four years later, he went to states and placed sixth. I wanted to place in states.
Any college plans?
I'm not sure about college plans. What all my brothers have done is go to Florida College, it's a good Christian school in Temple Terrace. That's where my entire family has gone. That would probably be it for my career in wrestling but I could always go back and ref or coach. I would love to do something like that. But who knows. If I got a real offer, I feel like my parents would let me go for that.
So you want to stay around the sport when you're done wrestling.
Right, it's just helping other people get to where, hopefully, I get. That would be awesome.
Any idea what you'd major in?
Maybe some type of engineering or mechanics or something like that. It would be fun to have something like that and maybe a side job of reffing on weekends just so you can stay up with all the high school kids and stuff.