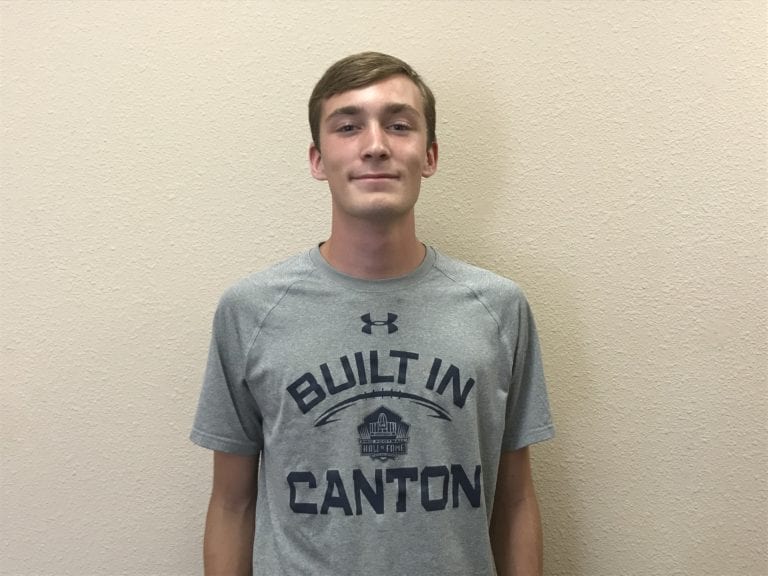 Haydon Patrick has led Durant's cross country team this season.
Durant junior Haydon Patrick has been blazing the trails for the Cougars in 2019. Just more than a week removed from being the first to finish in the Sept. 19 quad meet at Strawberry Crest, Patrick led all Cougars in the Don Bishop Invitational at Brandon High School with a time of 17:29.20 that locked up 16th place for him.
Know someone who deserves an Athlete of the Week feature? Email Justin Kline at jkline@plantcityobserver.com by the Friday before the next issue.
How's the season going, in your opinion?
It's going really good. Compared to last season and the season before, I'm making a lot of improvements and so is the team.
What's the difference between this year and past years for you?
Putting in more mileage over the summer. Even if we don't have practices, it's important to still keep up with it and make sure you're getting miles on your legs so you're able to do the races and do them faster.
Did you change your workout routine?
Yes I did. This summer, I got a personal trainer to come help me. It's definitely a big change. Summers before, when I didn't have any training, I would just go out and run a little bit. But (this summer) I had plans I was going on and set times for what I wanted to do. It really put everything into a schedule and balanced everything out.
What goals did you set for yourself for this year?
To get into college, like a good college, it's mostly like 15 minutes for a 5K. This year, I was hoping to get into the 16s and work my way down. Then next year's goal is to get into the 15s. I'm 30 seconds off from 16.
What's been your favorite thing about competing with this team for going on three seasons?
Just hanging out with the people. Every year, after the season, we have a party at one kid's house and that's always fun because everybody's there. We go out and play football, play basketball, just hang out by the pool. We're all really close. We're all family, pretty much.
What's some of the best advice you've gotten from a coach?
My track coach, she really helps me not only with running but also life lessons. Running, you've got to be very responsible about it. You have to be very passionate about it and you've got to put in the work to do it. She just tells me that that's life. Pretty much everything you have to do, you have to be able to put that work in, do it in a good way, praise the Lord and everything like that.
What's been your favorite race?
Freshman year, we went to Tallahassee and ran a race at FSU… that was a lot of fun. We didn't do it last year, but this year we're doing in next weekend.
What's your favorite subject in school?
I really like English and debate.
If you could play any sport you've never tried before, what would it be?
Probably like ping pong, table tennis. Sometimes when they do it, it's crazy how they hit it so hard and they're so far back from the table.