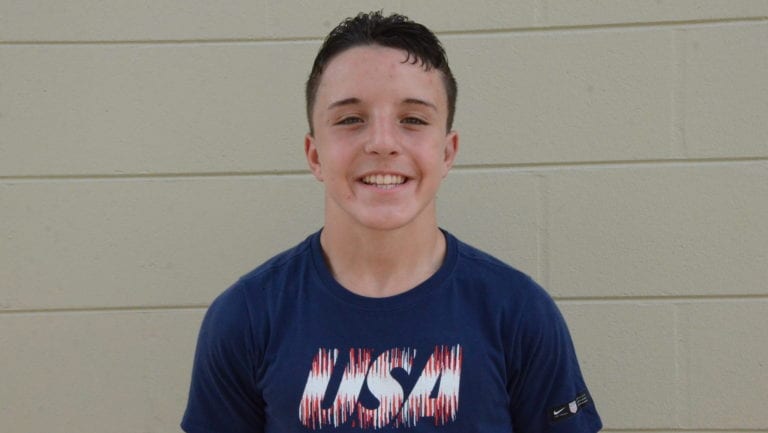 Gianni Maldonado isn't afraid to take on — and beat — older wrestlers.
Gianni Maldonado says he's never not confident in himself before a wrestling match. He speaks with surprising conviction for an incoming eighth-grader, but it's not hard to see why: his hard work on and off the wrestling mat has made him into a grappler to keep an eye on, especially after going undefeated in folkstyle and freestyle competition against high schoolers in a Brandon tournament for area clubs. The Charger Wrestling Club member went 3-0 in each division, wrestling at 130 pounds, and will soon head to New Jersey for the NUWAY Summer Nationals tournament.
Know someone who deserves an Athlete of the Week feature? Email Justin Kline at JKline@plantcityobserver.com by the Friday before the next issue.
You just took on a bunch of high schoolers and came out on top. What was that experience like for you?
It was a good experience. It helps me out when I go against my age level because it'll be a lot easier.
How did you feel going into that tournament? Confident, excited, nervous?
Confident. I'm always confident. It gives me a better sense to do well.
What fuels your confidence?
I want to do good so I can get noticed. This (Charger Wrestling Club) is really good. I want to get noticed and get my name out there so I can go to college.
What's your dream school?
Florida. They don't have a scholarship for wrestling, though.
Why go to a school with only a club-level team over something like Penn State or Iowa that's official?
I just always wanted to go to Florida. I played football before I started to wrestle. Florida has a good football team and that was always my favorite.
What got you into wrestling?
My friend from football, he tried out wrestling.
How long ago was that?
I was in fifth grade.
What made you stick with the sport?
I was good at it.
Which is your favorite wrestling style?
Folkstyle. It's the easiest for me.
When did you get comfortable wrestling competitively?
One or two tournaments after I got into it. I decided that I can do this.
In last weekend's tournament, when did you realize you might go undefeated?
I just always have it in my head to go undefeated no matter what. "This guy, he could be in college right now but I could beat him." That's always my mindset.
What's your strongest attribute as a wrestler?
Staying on top of training.
What advice would you give to a new wrestler?
Don't take it as serious right away. Make sure that you like it first and have fun with it. Then you can start getting more serious as you go.
Was that your experience?
I just thought it was pretty fun at first. Then after I noticed I was pretty good at it and I was beating kids, I started to like it a lot more and I started getting serious with it.
Do you play any other sports, besides football?
Yeah. I've played basketball before, soccer, a little bit of everything but baseball.
Which wrestlers do you look up to?
I like Jordan Burroughs because he takes a lot of shots and he's successful with his shots. That's what I try to be like.