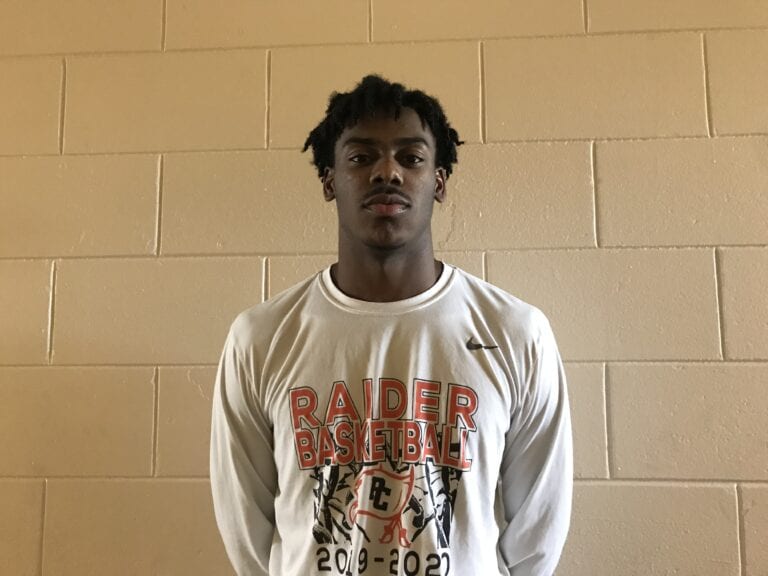 Ezereke Dawson was named MVP of the 2020 Nature Coast Tech Christmas Tournament.
Plant City High School's boys basketball team stayed busy over the winter break and came back to school with something to show for it. The Raiders won the 2020 Nature Coast Tech Christmas Tournament and a big part of that was the play of tournament MVP Ezereke Dawson. Dawson, a senior forward, averaged 12.7 points and six rebounds per game and saved his best for last with 14 points, five boards, one block, one steal and one assist in the team's 75-39 championship game win over the hosting NCT Sharks. Dawson is currently averaging 15.9 points and 10.1 rebounds per game, and he also has a 3.5 GPA.
Know someone who deserves an Athlete of the Week feature? Email Justin Kline at jkline@plantcityobserver.com by the Friday before the next issue.
How were you feeling heading into the Nature Coast Tech tournament?
I'm just excited to keep playing. We had just gotten quarantined and just came back, so we didn't have any practices or anything. We were at home, chilling. Some of us got shots up. Some of us were doing their own thing because they had to stay home. So I was excited to be back.
So how did you stay sharp while you all had to quarantine?
I would be around the house dribbling the ball, or sometimes I'd go to the courts for a little bit and if people came I would leave… if I did get exposed to it, I didn't want them getting exposed to it.
So how did that first game back feel?
I didn't know how well we were gonna do because we hadn't been practicing lately as a team. I knew what I could do but I was more worried about how we would play as a team, as a whole, because we hadn't been together. But when we got there, we ended up showing out and playing an amazing game as a team.
You're having a very good season now. What's working for you this year that you can say you've really improved on from the last three years?
My work ethic. I feel like before, I wasn't putting as much time and work into the gym. But then I opened my eyes working out with my AAU coach, coach C.J. He opened my eyes to, like, if I want to do it, I've got to go take it because it's not gonna be given to me. My work ethic went higher and higher after that. I'm always in the gym. I'm always working on my jump shot and becoming better at spacing the floor for the team.
And on the court, where have you made the biggest improvement?
Finishing above the rim. I'll dunk on everything every time I get a chance to dunk. Rebounding, too… I'm hustling, getting after rebounds knowing the importance of it. I'm trying to become more of a leader for the team.
Any college plans?
Really, anywhere. If any teams are looking, if any coaches are willing to talk to me and offer me, I'm willing to go anywhere. It's just a blessing to even get offers from judos and all that. I take it as a blessing. I'll never say I'm too good to go to a certain college or a certain division. Never that. I'm always looking to get better and work. Wherever I can take my talents to, I'll be willing to go there.
What kind of fit are you looking for in a program, culture-wise?
I don't know. I'll play anywhere. I don't have a problem fitting in with a certain group. I get along with everybody pretty well. I've never been the type to look down on others or look at myself above others.
What's your proudest moment on the court?
Just being with my teammates. They cheer me on every time I dunk the ball and I cheer them on. When the bench players get in, I get excited for them because it's a team effort. I never feel like I've been the only person that's put in work on this team. I always see what my teammates are doing.
What's your favorite thing about this group of guys?
Work ethic. Hard work. We give a lot more effort than we had last year. I broke down in the preseason, in the locker room, because they just showed me that this year might have a lot more potential than last year. So far, we've been moving pretty well.
What's the best advice a coach has given you?
Just for me to be a dominant player. Every time I step on the court, I need to show that I'm the best player. I can't just say it. If you're the best rebounder, show that you're the best rebounder. If you're the best passer, show that you're the best passer. If you're the best scorer, show that you're the best scorer. Be the best you — not somebody that you're not.
Since you're about to graduate, what advice would you give to the next generation of Raiders?
Time flies. You think you have all this time to work on your game? No. Every single second you get a chance for anything, to work on your game, go take it and get after it. I thought it was like that, too, and then I realized I'm already in my senior year and I needed to show improvement. Never think you've got time — always be willing to get in the gym and get some shots up.