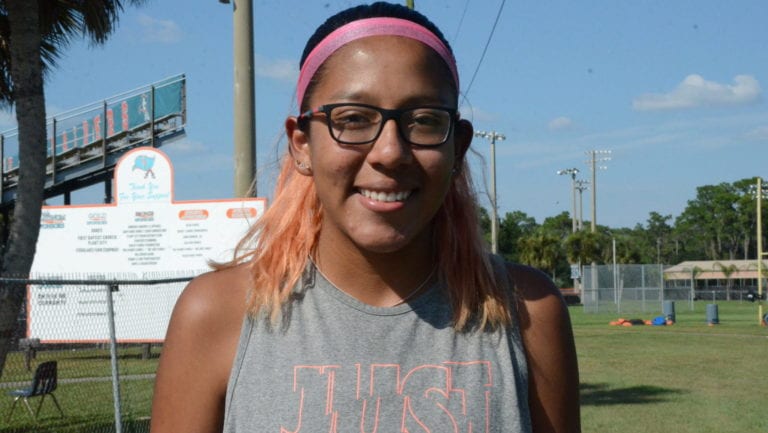 Cecilia Castillo set a new personal record at the 2019 Seffner Christian Invite.
Plant City High School's girls picked up a top-10 finish at the Seffner Christian Invite on Sept. 14. Leading the Raiders was senior Cecilia Castillo, who took on a tough Holloway Park course and finished with a personal-best time of 22:33.34. Castillo, a three-sport athlete, has been running cross country for the school for three seasons and is considering running at the collegiate level after graduation.
Know someone who deserves an Athlete of the Week feature? Email Justin Kline at jkline@plantcityobserver.com by the Friday before the next issue.
How were you feeling going into the race?
I was feeling very confident. I was hoping to hit a PR. I wasn't really going in there thinking I would hit that much of a PR. During my workouts and stuff, my coach had been telling me he believed I could hit at least 22:50. I thought he was kind of crazy when he told me that. But I just went out and tackled those hills.
What was your previous PR?
24:38.
So you beat it by a full two minutes and then some. When in the race did you think that maybe your coach wasn't so crazy after all?
Well, going out in the first mile, I went out faster than he anticipated me to go out. Going through the second mile, which is always a harder mile, I was feeling very good. I thought there was still so much more left in the meet, but it turned out there was only one mile left and that's when I knew I could do it.
What's the hardest thing about running at Holloway?
I would definitely say the hills. A good thing about this time around was that the course was dry. It usually is wet and slippery. The hills are definitely the worst part.
What's been your favorite moment running cross country for the school?
I think my favorite part is meeting the people who run. The people who run cross country are just so supportive of each other. It's a sport where everyone supports each other, even if you don't know each other. You always have that support system there.
What's your favorite event you've run in?
This past weekend.
Do you play any other sports?
I play soccer and I run track.
How did you get started in cross country?
To condition for soccer. The coaches had seen me out and they knew my sister ran, so they wanted to see what I had. I gave it a shot. I knew it would benefit me in soccer.
What kept you at it for this long?
It's when you finish. That feeling that you just did it, I can't really describe it unless you do it. It's an amazing sport and I love every part of it.