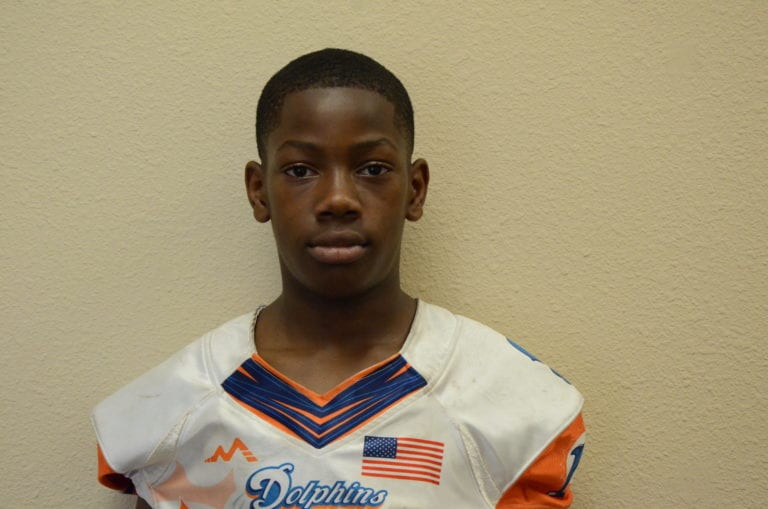 Cason Dash is a running back and linebacker for the Plant City Dolphins.
The Plant City Dolphins recently wrapped up their spring season in the Florida Youth Spring Football League and the Pee Wee team finished with a 7-2 record, making it all the way to the league championship game. One of the biggest contributors to the season was Cason Dash, who scored more than 20 touchdowns at running back and started for the team at linebacker all spring. Dash was also one of three Dolphins to make the league's Pro Bowl cut and joined Elijah Frazier and Vance Parrish on the Pee Wee all-star team for the Northwest region.
Know someone who deserves an Athlete of the Week feature? Email Justin Kline at JKline@plantcityobserver.com by the Friday before the next issue.
How long have you been with the Dolphins?

Three years.
What made you want to start playing?
My dad.
Which position is your favorite to play?
Running back.
Is there anybody you try to play like when you're out there?
Ezekiel Elliott.
What made you fall in love with the game?
I just really like it.
What was the best game you ever played in?
The (TCYFCC) Super Bowl last year because they could have scored and we would have went to overtime, but they didn't.
What's some of the best advice a coach has given you?
At linebacker or safety, to backpedal in case there's a pass. At running back, hold the ball.
Do you play other sports?
I've played baseball and basketball before.
Which are your favorite college and pro teams?
In college, Alabama and Miami. In the NFL, I like the Saints.
How do you get ready for a game?
Get hyped with my team.