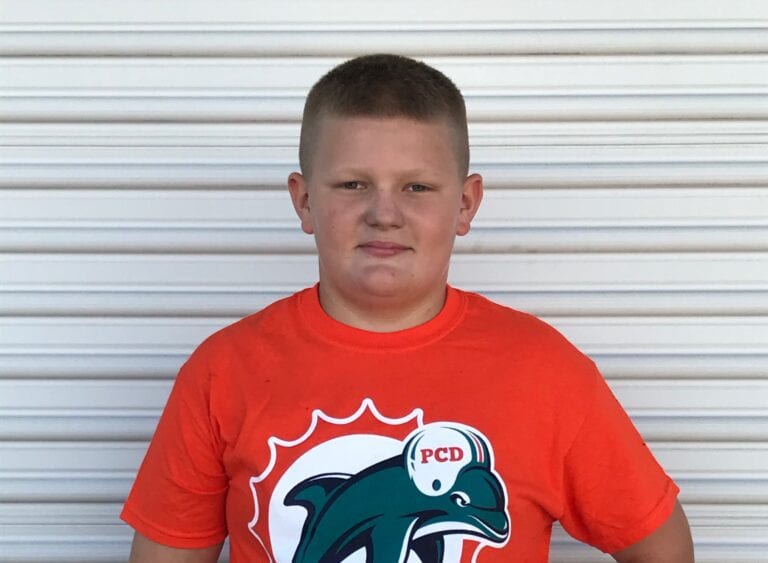 Cain Cook starts at right tackle for the Plant City Dolphins Midgets football team.
The Plant City Dolphins Midgets are undefeated at 5-0-0 in 2020, but they got a close call last week against the North Lakeland Legends. The Legends put up a tough fight against the reigning TCYFCC champs, but the Dolphins put their noses to the grindstone and pulled off a 7-0 win to keep their perfect record alive. Head coach Robbie Jordan said the Dolphins ran behind starting right tackle Cain Cook all day and that was a difference-maker. Cook, 11, is in his sixth year with the Dolphins organization and is one of the Midgets team's few veterans.
Know someone who deserves an Athlete of the Week feature? Email Justin Kline at jkline@plantcityobserver.com by the Friday before the next issue.
Tell me about that game with North Lakeland. That was a tough one for you guys, wasn't it?
The whole line, the people I play with most of the time, they were on time on the spot the whole game… a win's a win.
You've been with the Dolphins for six years now. What made you want to start playing football?
I started to play baseball and I liked it, but the only things you did were run, hit the ball and catch the ball. I tried football out and liked it, so I stuck with it.
What do you like about football that made you want to make that your main thing?
I get to hit people.
Which positions do you play for the Dolphins, besides right tackle?
On defense, I play on the strong side of the ball at tackle. And when we played Turkey Creek, I got to run the ball one time.
Which is your favorite?
Probably defensive tackle.
What's been your favorite game you've played in with the Dolphins?
Last season's Superbowl.
Who are some football players you look up to and try to play like?
J.J. Watt and Ryan Jensen from the Bucs.
Is there any position you haven't played but want to try one day?
Fullback.
What's a sport you've never played but want to try?
Lacrosse.
What's your favorite thing about playing for the Dolphins?
I know pretty much everyone. I've made a lot of friends and some of them go to my school, too.
What advice would you give to someone who's new to football and might join the Dolphins?
Don't cry.
What's some of the best advice a coach has given you?
Have quick feet and try hard.