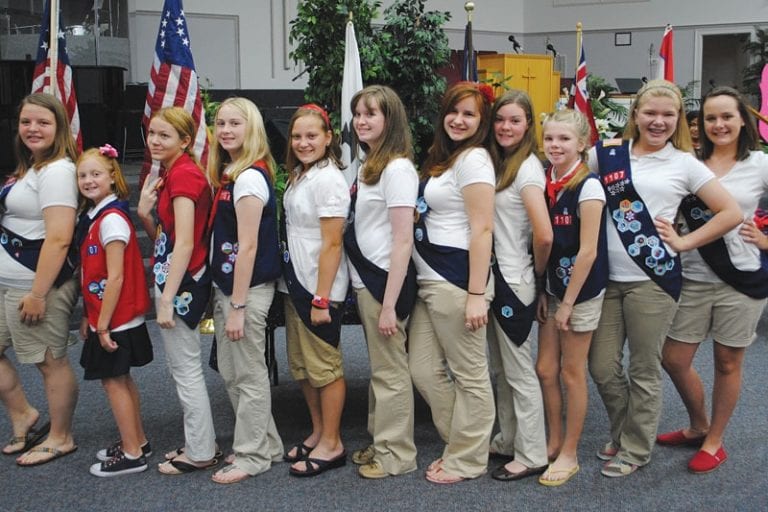 By Amber Jurgensen | Staff Writer
The American Heritage Girls Troop FL1107 has earned the Gold Presidential Service Award for serving more than 1,000 hours of community service last year.  
Of the 29 girls in the troop, 11 earned the award. They volunteered at 24 different organizations in Lakeland and Plant City, including several schools and churches, Roosevelt Regatta, Relay for Life and the Crystal Springs River Clean Up.
"I think the girls were just flabbergasted," Ann Doak, vice coordinator of FL1107, says of the honor. "I don't think they realized they had that many hours."
"I was surprised," Aria Bell, a recipient and Doak's granddaughter, says. "It was awesome. I was working really hard for it."
The troop will receive certificates for the award Aug. 14.
Bell, 14, posted more than 100 hours of community service by volunteering with different churches at Vacation Bible School programs. She also helped with tutoring at Advantage Academy.
Bentley Rae Roberts, 13, earned more than 50 community-service hours by volunteering at the Strawberry Festival, helping with check-in day and setting up.
Last December, the troop sold wreaths for $15 that were taken to the Florida National Cemetery in Bushnell and placed on graves of veterans.
"They were really touched by that particular service," Doak says.
Bell has always been involved in the scouting world. Her older brother, Taylor, has been a Boy Scout for years. But there was no organization for Bell to join in Plant City. Doak and Missy Bell, Aria Bell's mother, started the only troop in Plant City in 2008. Sponsored by the Evangelical Presbyterian Church of Plant City, they had planned for eight to 10 girls to attend the first meeting. Forty girls came. Troop members enjoy a variety of experiences, including camping, tubing and community service, while earning badges and bonding.
"I like earning badges and doing community service, but mainly, I like being with my friends," Roberts says.
"My favorite thing is to watch the girls do things they never thought they could do," Missy Bell says. "They build leadership skills, experience the outdoors, (and) learn about science and history."
The American Heritage Girls is a national Christian-based group that teaches girls integrity and leadership skills.
Contact Amber Jurgensen at ajurgensen@plantcityobserver.com.Related Stories