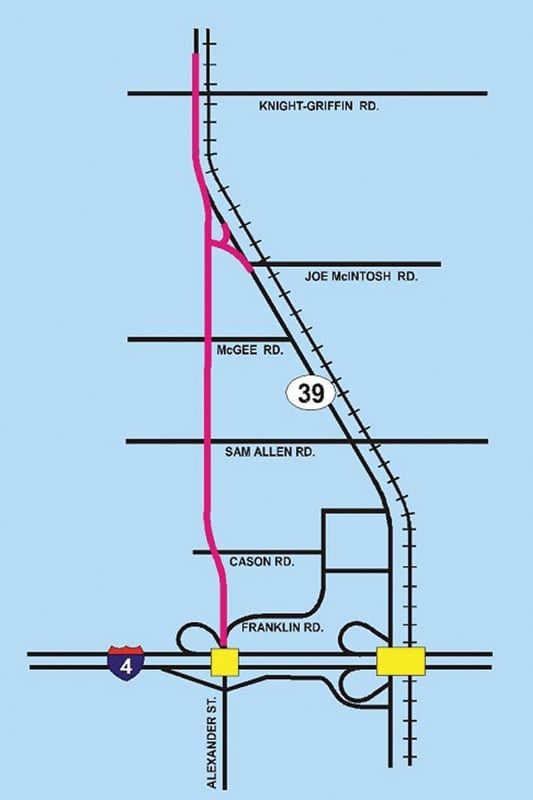 By Matt Mauney | Staff Writer
The Alexander Street extension project between Interstate 4 and north of Knights Griffin Road in Plant City is running on schedule for an early 2014 finish date.
The project, which began Aug. 11, 2011, will add a new four-lane road with medians on the north end of Alexander between I-4 and Joe McIntosh Road and widen the existing S.R. 39 between Joe McIntosh and Knights Griffin roads.
New drainage ditches and ponds along the corridor to control stormwater runoff currently are being developed, said Kristen Carson, public information officer of the Florida Department of Transportation. New traffic signals at I-4, Sam Allen Road and Knights Griffin Road also will be added.
The set cost for the project is $14,782,862. The project length totals 3.2 miles, including 2.6 miles of new roadway and .6 miles of widening.
Originally, the FDOT studied the widening of the current S.R. 39 to create more capacity.
"We were limited because of the cemeteries along the sides of the road,"Carson said.
That issue, as well as public comments made during the public hearing process, helped FDOT come to the decision of creating a new alignment for S.R. 39.
According to Carson, Hillsborough County will take over control of the current Alexander Street once the project is complete.
Because the project exists on previously undeveloped land, there has been minimal disruption to traffic flow, and there is no anticipation of lane closers in the near future. The majority of the work will take place during the day.
Kemminga & Roodvoets Inc. is the contractor for the project, and, according to Carson, progress has not been delayed significantly despite recent inclement weather.
Contact Matt Mauney at mmauney@plantcityobserver.com.
AT A GLANCE
What: An extension of Alexander Street (S.R. 39) between Interstate 4 and north of Knights Griffin Road.
Start: Aug. 11, 2011
Contract days: 880
Estimated finish date: Early 2014
Project length: 3.2 miles
Contractor: Kamminga & Roodvoets, Inc.
Project cost: $14,748,862
Progress: The project is currently on schedule.Seo ">http://allegrettilaw.com/privatbank-murmansk-kreditnaya-karta.php