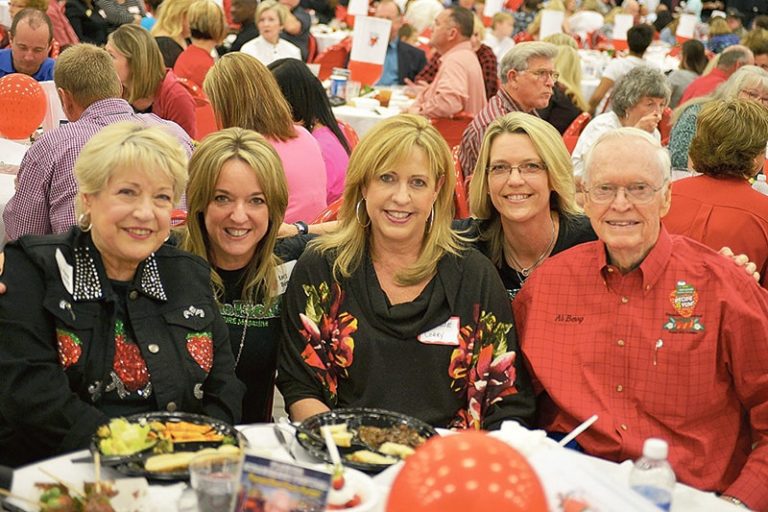 In his more than 40 years of service as a member of the Florida Strawberry Festival Board of Directors, Al Berry has gleaned enough memories to fill several history books.
There was that one time, when a lady and her child were stuck in Interstate 4 traffic for hours, only to finally arrive to see a line 30-plus deep for the restroom. Berry, in true Plant City fashion, quickly escorted the two to the exclusive directors' lounge.
There was another time, when a family from Melbourne bought concert tickets online, not knowing that they also would need to purchase festival admission tickets. They couldn't afford to spend any more, so Berry personally escorted them to the Wish Farms Soundstage.
And, he'll never forget the time when he and his wife, Patsy, chaperoned the Florida Strawberry Festival Queen and Court to Bradenton to participate in that city's nighttime parade. Everything was going according to plan — until a streaker pranced around, in all his glory, right in front of their float.
Berry, who served for 43 years as a member of the festival's Board of Directors, has stepped down from the role. Associate Director Phil Waldron will take the open seat.
"I'm just thinking, at my age, I've had a good run at it," said Berry, 78. "We've had a lot of fun, a lot of growth and a lot of things happen. It's just time for me to move on."
In many ways, Berry is the perfect personification of the Florida Strawberry Festival — somehow both larger-than-life and comfortingly small-town at the same time. A Plant City native, Berry  studied broadcasting at Texas Western College and the University of Tampa. He spent more than 40 years in radio broadcasting, beginning his career at WFLA while still in college. In 1958, he joined Plant City's WPLA as a deejay and coined his famous sign-off, "I'd rather be a little late and still be Al Berry than the late Al Berry."
Berry later became part owner of WPLA, until 1987, when he and business partner Ercelle Smith sold the station.
Berry's involvement with the festival began through his father, a former officer with the Plant City Police Department. Berry started as a volunteer and later helped the festival transition from its five-day format — first to six days and eventually to its current 11-day schedule.
As a member of the Plant City Lions Club, he also helped launch what later became the festival's biggest draw — its headline entertainment. In 1972, Berry, J. Myrle Henry and other Lions Club members hosted the festival's first celebrity — Dale Evans, wife of Roy Rogers.
Once Evans arrived, Berry and Henry held Plant City's first press conference with Evans, in the community room of the Hillsboro Bank, at the corner of Reynolds and Evers streets.
The next year, Pat Boone brought his star power to Plant City, followed by Anita Bryant and Ken Curtis, who played Festus on "Gunsmoke."
"Before, the midway really was the attraction. That was the big entertainment at the time, but it was more sideshow-type things, like an alligator woman," Berry said.
Berry also helped the festival with its public and media relations efforts. Today, the festival operates the Badcock & More Media Center, which allows journalists easy access to the festival and a place from which to operate on the festival grounds.
He's even been known to don the appropriately named Mr. Berry costume to greet attendees at the front gate.
"It's been wonderful to see the festival grow all these years," Berry said. "It's been an interesting 43 years, and the most gratifying thing has been that I've been reelected every year. That means more to me than anything, because I've only done what I thought was best for the festival.
"The festival is on the right path now, and it's growing under the direction of a great board and General Manager Paul Davis," Berry said. "There's only one way it can go — up. Period."
Although he is stepping down as an active board member, Berry still will remain involved as director emeritus but no longer will have voting privileges. Furthermore, he plans to remain a familiar face at the festival to greet guests and share with them a little Plant City hospitality.
"As long as my health allows, I'll be out there," Berry said. "I'm looking forward to it — as long as the Good Lord allows."
Contact Michael Eng at meng@plantcityobserver.com.