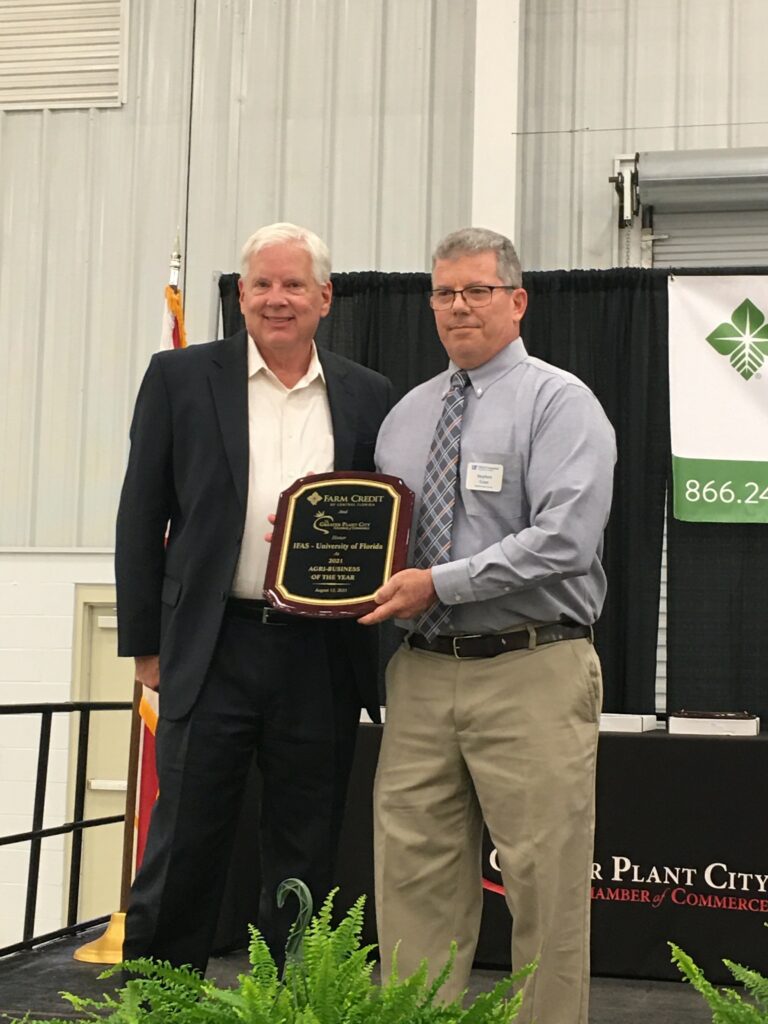 The Greater Plant City Chamber of Commerce recognized UF/IFAS as its 2021 Agri-Business of the Year.
The faculty of the University of Florida Institute of Food and Agricultural Sciences win so many awards that it's hard to keep them all straight. It's less common for the organization that makes their excellence possible–UF/IFAS — to win an award as an organization.
That's what makes it so special that the Greater Plant City Chamber of Commerce recognized UF/IFAS as its 2021 Agri-Business of the Year. It recognizes the full sweep of UF/IFAS's contributions to the community.
UF/IFAS Extension Hillsborough County Director Stephen Gran, who presented the award to me at the event on August 12 at the Grimes Agricultural Center, explained that UF/IFAS delivers on all three aspects of the land-grant mission locally:
Education: the UF/IFAS College of Agricultural and Life Sciences Plant City Program.
Research & Extension: the UF/IFAS Gulf Coast Research and Education Center in Balm and the UF/IFAS Tropical Aquaculture Lab in Ruskin.
Extension: UF/IFAS Extension Hillsborough County in Seffner.
The Chamber's award is especially meaningful for a few reasons. First, UF/IFAS is a huge organization that operates in all 67 Florida counties, but we measure our impact by county, by community and by farm. The Chamber award tells us we're making an impact here, that we're achieving the relevancy we seek in your lives and in your economy.
Second, the Chamber traditionally offers its Agri-Business of the Year Award to a business. I sometimes hear critics suggest that the university should run more like a business. For the Chamber to recognize UF/IFAS as an economic driver validates that we already operate like a business, serving customers and creating jobs.
I thank Chamber President Christine Miller and agriculture committee chair Wesley Joyner for thinking outside the box with a non-traditional selection in a sector with a long history.
Personally, it was also a pleasure to visit with the families of other award winners such as Ed and Myrtle Lou Swindle and Ryan Gill, and of course, Farm Bureau legend, Judi Whitson. Kudos to Brian Shepherd, too, for the recognition he received for working with Plant City youth.
I was glad to see UF/IFAS represented by Jason Steward and Debra Barry of our Plant City Program and professor and Extension veterinarian Roy Yanong of the aquaculture lab (TAL Director Craig Watson could not be there. He was away receiving an award for "Outstanding Contributions in Promoting the Growth of U.S. Aquaculture" from the National Aquaculture Association.).
UF/IFAS has so many ways we can work together for a better Plant City and Hillsborough County:
Consider UF/IFAS CALS Plant City for your sons and daughters' higher education — a UF education without having to leave Hillsborough County.
Enroll in an in-person or online Extension class and learn a new skill.
Visit our Gulf Coast REC or Tropical Aquaculture Lab for a tour or field day.
Tell your elected officials that public science matters to your community.
Let us know what UF/IFAS can do for you!
I look forward to visiting Plant City again, to tour our college program and to reconnect with Hillsborough Community College Plant City campus President Martyn Clay, whom I enjoyed meeting at the event.
Plant City benefits from and supports a thriving agricultural economy. It's our honor at UF/IFAS to be a part of that.
J. Scott Angle is the University of Florida's Vice President for Agriculture and Natural Resources and leader of the UF Institute of Food and Agricultural Sciences (UF/IFAS).