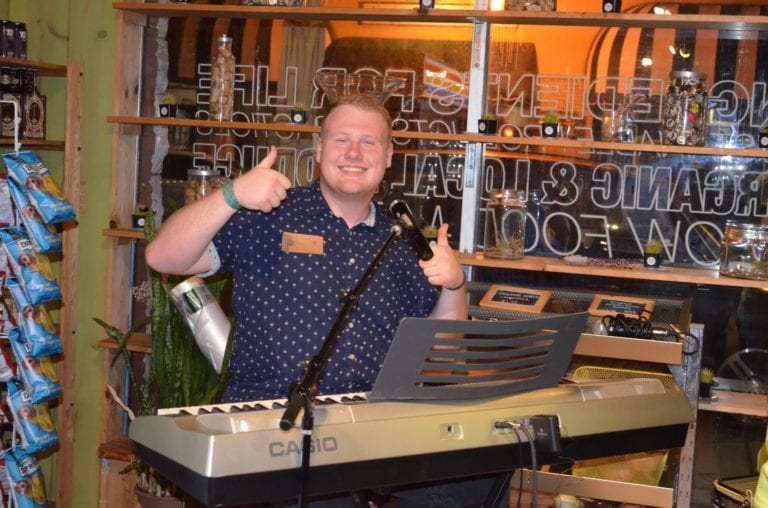 Plant City's group of creatives and makers celebrated the one year anniversary of MAKE Plant City at a special event at the Corner Store.
MAKE Plant City debuted one year ago with one simple mission in mind: to act as a facility that connects people to local creative makers of all types.
On the second Tuesday of each month, they meet at a different location to not only create that camaraderie between
individual attendees but to also highlight the small businesses and organizations that are pillars in the local community.
Despite some common misconceptions MAKE has no intention of being an event-based group that hosts elaborate festivals or spearheads grand celebrations. It's a platform and though it is only a year old, the movements that have sparked from friendships and collaborations made are already making an impact on Plant City.
"There's so much that I don't think would have ever happened had MAKE not been created," Jessie Frier, founding member of MAKE Plant City, said. "The improv comedy group, the stand-up group, several of the collaborations we're starting to see, that's all because of MAKE."
Vicky Saunders, founding member of MAKE Plant City, said the structure of each event is entirely designed to foster organic connections. People always come early to chat with the featured artist, which is always a small business or local artist that wants to connect to the community and seek out new attendees to find out what their "creative passion" is.
Then a guest speaker shares stories about their creative journey and how they got the successful point they are today. The audience can interact and ask detailed questions in a Q&A with the speaker. By the end of each meeting they've received a new insight on what need the aritst sees in the community and learned what they are attempting to do to fill that demand.
Several attend that have no desire to ever take part in an artistic or creative feat of their own. They, however, represent the growing demand from the community to support and utilize the talent found within the Plant City limits.
"This is about arts, culture and elevating the creative pillar of our community," Arley Smude said. "But it's just as much about our local economy. Don't complain about poor quality products made overseas and the outsourcing of American jobs and then go buy your belt at Walmart. Charles makes belts in Plant City. Dan makes knives in Plant City. Mandy makes chocolate in Plant City. Starr Creations makes monster truck frames in Plant City. There are so many undiscovered creative people and businesses in our community."
Plant City is not alone in its conscious turn toward zeroing in on local makers. The national movement toward refocusing on revitalizing local economies by returning to the support of local businesses and talents has sparked the creation of similar groups across all 50 states.
MAKE Plant City was born after Smude and Saunders began attending the Lakeland Creative Makers and realized there were several Plant City residents driving each month to tap into this type of group. The demand was there and since announcing the Plant City group's arrival there has never ceased to be a packed house at the events.
"We're connecting people to the talent right here in Plant City," Saunders said. "Five years from now I believe MAKE will still stay true to its roots with monthly meetings and just that focus on collaboration. In five years, I want to see more art events come from connections made here, more local businesses pop up because community members were able to fall in love with the work of people who call Plant City home."
Rebecca Nipper Galvin and her husband, Charles Galvin, were part of the group that met Saunders and Smude in
Lakeland. She is an artist specializing in watercolors and he is a leatherworker. They've attended nearly every Plant City meeting since its creation and said it is bringing awareness, spreading the knowledge that there is a better, local option to most of the goods and services you can buy from chain stores or from large corporate businesses. Nipper Galvin coined the group as being "creative match-makers."
She said MAKE is here to bridge that gap between both the community and creatives and fellow makers with each other. Its a way to make arts and creativity of any kind more accessible to the general public so they can "be a supporter of the arts in their own little way."
"Plant City has so much development right now, both with the industrial and the residential, so that makes this type of group even more essential," Galvin said. "It's letting the community know there are people making things around us, that you can kind of change your outlook on what is available for you."