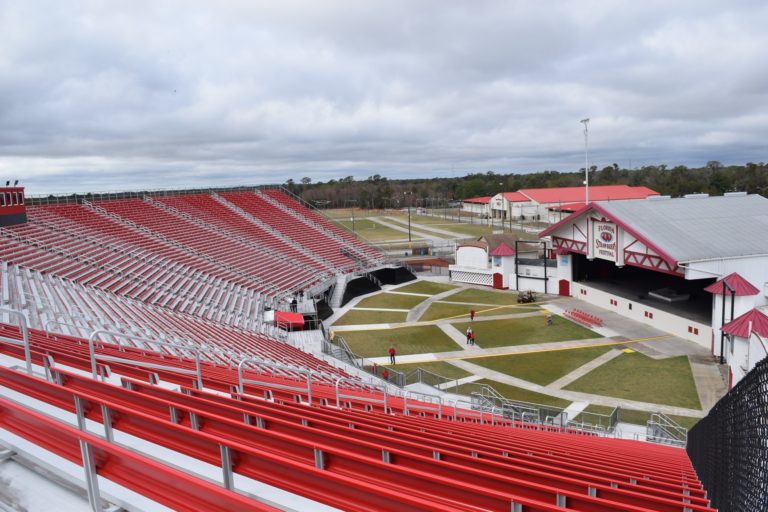 The Florida Strawberry Festival's new grandstand seating is upping the festivals concert game.
At 3:30 p.m. on March 1, the Oak Ridge Boys will take to the Wish Farms Soundstage at the Florida Strawberry Festival and for the first time in festival history, fans will watch in a venue designed for live music.
Last month, the Strawberry Festival debuted its new grandstand seating, designed for comfort, safety and an improved sonic experience. Since the festival began hosting headline performers with Dale Evans in 1972, concerts were held on the grounds of the old William Schneider Memorial Stadium. The stadium was once home to Plant City High School's football team. Its backless concrete bleachers were designed for football, not music.
"We've been having and hosting these great names in the football stadium with concrete bleachers," Festival Board Chairperson Sandee Sytsma said. "We've always wanted that experience to be a little better for, not only our guests, but for our entertainers. We wanted it more comfortable, sounding better, closer to the stage. We have that now, thanks to a lot of people."
The old bleachers were uncomfortable and dangerous, Paul Davis, festival president said. For years, the Florida Strawberry Festival Board knew it would have to upgrade the seating or lose entertainers and concert goers to places like Orlando and Lakeland. It was only a question of when.
Construction of new seating had been in talks for many years. The idea began to take shape when the festival's board of directors started talking to GT Grandstands during a fair trade show in Las Vegas. Following much discussion, design and behind-the-scenes work, Greg Buckner, general manager of GT Grandstands, said, ground was broken on the new seats in March.
"There's a saying, 'what happens in Vegas stays in Vegas,'" Plant City Mayor and festival board member Rick Lott said. "I'm sure glad this time it didn't. You brought it home to Plant City."
The new seating comes with a number of upgrades aside from backed seats. Every aspect of the design and construction was meticulously planned for a prime concert-going experience, Davis said. The new seating wraps around the soundstage like an amphitheater, its furthest seat from the stage 12 feet closer than the old stadium's nearest seat.
The facility has improved ramps and walkways, making it safer and ADA compliant and a sound engineer helped improve the acoustics with details from the fencing down to the perforated, mesh-like underside of each seat. Even the lighting was a major decision, Davis said. Planning and meetings led to four-foot LED lights under the steps that are coated to soften their glow and be weather-resistant.
The new seating means no more free concert tickets for the bleachers, which Davis and Sytsma said they know can be a sore subject. Davis said the festival looked at updating the old seats, but that would've meant bringing the whole structure up to code, which proved to be an impossible task given the old stadium's age and design. Davis said it was important to keep the ticket prices low since the free seating was gone.
"We try to get just enough money to cover our acts," he said. "We don't try to make a profit here. That way, we bring people in and they enjoy the fair."
The Wish Farms Soundstage hosts about 24 headline performers over the festival's 11-day run. Festival attendance averages well over 500,000 people, with about 541,000 attending in 2017 and about 560,000 attending in 2016.
Davis said the new seating will be given its first true test during Reba McEntire's Sunday performance.
"She'll fill the grandstand," he said. "It hasn't sold out, not yet, but it's expected."