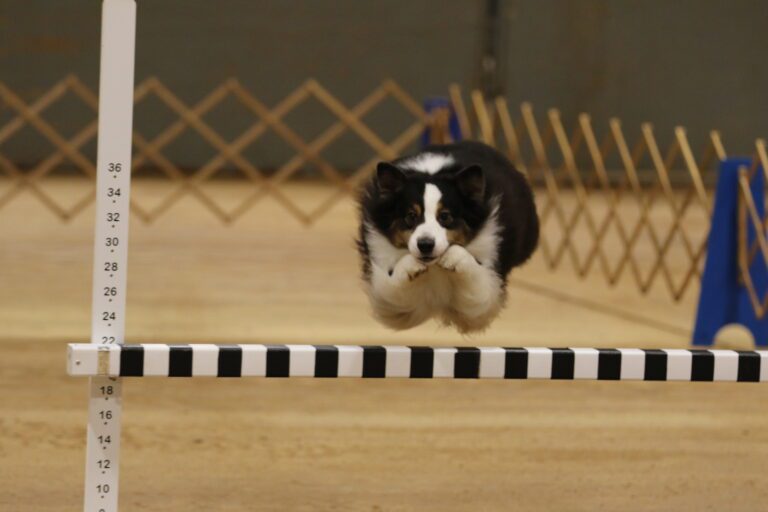 Dr. Christy Layton's and Barbara Layton's prized shepherds reach the medal stand at a recent competition.
Dr. Christy Layton of Timberlane Pet Hospital and Resort in Plant City and her mother, Barbara Layton, recently competed in the Australian Shepherd and Australian Shepherd Club of America (ASCA) Nationals in Bryan, TX. Dr. Layton's dog, Vegas came in second place for the Super Dog category and Barbara's dog, Josi came in third place in the Utility category. "We had a great time competing together at ASCA Nationals," said Dr. Layton. "This is the third year we traveled to Texas to compete and we love being able to do these events together with our dogs."
They make it a fun mother/daughter/dog road trip to the nationals every year. "We take about 10 days off to travel to the competition," said Dr. Layton. "We take 4 days to drive up and back along with the time we spend in Texas. It's a fun time for us and our dogs."
This isn't the first time the mother and daughter duo have competed together. They both used to show Appaloosa horses before they got into Obedience, Conformation and Scent Work competitions with their dogs. "We started off showing horses together, which was a lot of fun," said Barbara Layton. "I start to move into showing dogs and that's when I told Christy she needed to get a dog so we can do more things together. She was hesitant at first but then she got one and we started showing them."
Showing animals has become a family tradition for the Layton's. "We have a good time together," Barbara said. "We are both in the same class and we are both in the same trials, but we have fun and cheer each other on. Life goes on and you have to make the best of it and have fun."
Dr. Layton and her mother have been attending the ASCA Nationals for the last three years. "We have both qualified each time at finals," Dr. Layton said. "Vegas won two years ago in Open final and last year he won Utility finals. It's a great feeling to see our dogs compete together and I love that I get to do this with my mom."
If you would like to learn more about ASCA, you can visit their website at www.asca.org. Timberlane Pet Hospital and Resort is located at1704 Walden Village Ct. in Plant City. If you like to know more about the services offered at Timberlane Pet Hospital and Resort, you can visit their website at www.timberlanevet.com.