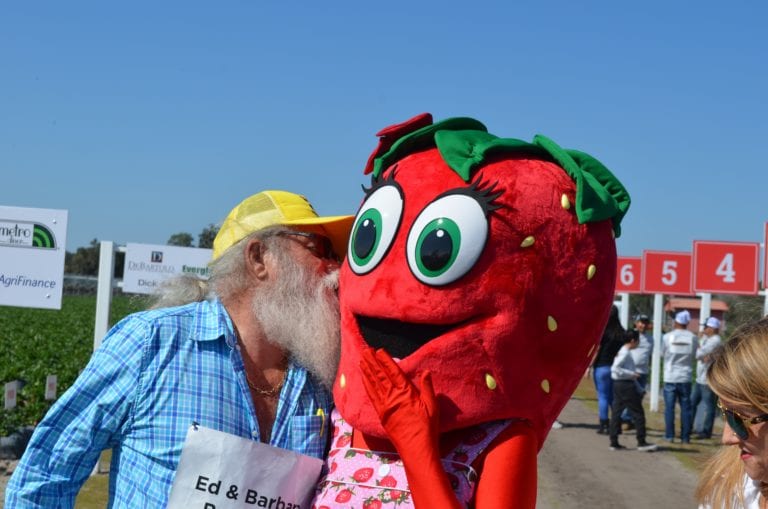 Mr. Berry's new friend, Miss Berry, is tagging along this year to check out the Florida Strawberry Festival.
Mr. Berry has been capturing hearts at the Florida Strawberry Festival for years. Now he's being joined by his new berry-intriguing friend Miss Berry.
The giant berry mascot makes routine appearances at the festival, waves to the thousands of attendees at the parade and frequently pops in to cherished events around town. This year he's bashfully showing off the town he loves to his friend as they take in the sights together.
"It began in the year's strawberry fields as the dew settled on the blooms and warm days and cool nights brought about a new and luscious crop," Tommy Warnock said at the Florida Strawberry Festival Volunteer Appreciation Banquet. "But this year there was one 'Berry Berry Special Berry' that caught the eye of our own, Mr Berry."
The courtship is still new and the duo are far from ready to "settle down." Guests can get their photo taken with the sweet pair every day from 11 a.m. to 11:30 a.m., 3:30 p.m. to 4 p.m. and 5:30 p.m. to 6 p.m. in the TrueStep Gazebo on the festival grounds.
Jennifer Morgan, public relations and media representative for the Florida Strawberry Festival, said it's an addition the festival has been itching to get started for years.
The festival knew it wanted a special mascot to represent the 11-day event in a "fun and inviting way" for any guests who were young or even those who are seasoned but still have youthful hearts.
From that desire Mr. Berry was born and he quickly became a major hit. Morgan said whenever her family goes to Disney, she always gravitates toward Minnie Mouse and Daisy Duck.
When the idea was floated again this year to bring a female companion onboard she was 100 percent behind the idea and quickly got to work helping make it a reality.
"She has been a hit," Morgan said. "She's only been here since November and everywhere she's gone the children, usually children get nervous about those kind of things, and sometimes that occasionally happened, but what I've noticed in the last couple of weeks is she gets a lot of hugs and smiles from the youth. She's excited to be here and I think the public is really happy to have her."
While they currently are still remaining in the friends stage she joked oneway we might see a "lovely courtship blossom" and perhaps even get to watch the ringing of wedding bells unfold.
Any guests who wish to meet the pair at the festival should be on time, if not early, as the line tends to get long. The duo arrive promptly at their designated time and have to leave as soon as the clock strikes the end of their session.
However, if you're just wanting to catch a glimpse of the pair you will more than likely see them popping up at special events all over the festival. Mr. Berry wants to show off his beloved town after all so they will be taking in the sights, competitions and activities all across the grounds.