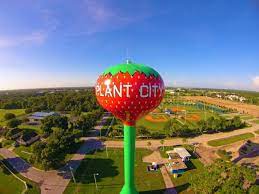 Even though the Florida Strawberry Festival is the main attraction, don't miss out on the rich history, culture and eateries that Plant City has to offer. After you've had your fill of fun at the festival, here are a few local spots to enjoy during your visit to our hometown.
HISTORIC DOWNTOWN
Plant City's downtown area was designated as a U.S. historic district in 1993 and is home to several historic buildings, restaurants, coffee shops, businesses and homes. For a schedule of downtown happenings or walking map visit www.plantcitymainstreet.org. Here are some of our favorites that are either in downtown or adjacent to it:
Robert W. Willard Railroad Museum and Train Viewing Platform
If trains are your passion, this quaint museum is for you. Located at 102 North Palmer Street, the museum has a sizable collection of railroad equipment and memorabilia, including a completely restored Seaboard Air Line caboose. Next to the museum is a train watching platform so you can watch trains going by.
Courier Field and Veterans' Monument
Located 703 North Wheeler Street, this open space features restrooms, a gazebo and plenty of space for a game of tag or frisbee and a picnic. A veterans' monument honors those who've served in the Armed Forces.
Plant City Photo Archives and History Center
History buffs will revel in the more than 55,000 digitized images and an exhibit gallery that documents the history of Plant City. Located at 106 South Evers Street, the Photo Archives is open Monday – Thursday 10 a.m. – 7 p.m. For more information visit www.plantcityphotoarchives.org.
Bing Rooming House Museum
Once a resting place for African Americans visiting from out of town, the Bing Rooming House Museum now exhibits history through photography, videos and sports memorabilia. Located at 205 South Allen Street, the museum is open Mondays 6 p.m. – 8 p.m. and Wednesdays 10 a.m. – 2 p.m.. Call 863-398-2059 to schedule tours anytime of the week or weekends. For more information visit www.PlantCityBingHouse.com.
ACTIVE FUN
McIntosh Preserve
There's more than 350 acres of land to explore at McIntosh Preserve, located at 775 East Knights Griffin Road. It's home to many different wildlife species, including bald eagles, red-shouldered hawks, deer, American alligators and bobcats. Enjoy miles of trails and views from a 30-foot observation tower. The Preserve is open daily from sunrise to sunset.
Dr. Hal and Lynn Brewer Park
This park, located at 1491 Hunter Street, is a great spot to visit for outdoor activities. Walk around the pond on a paved trail. Other park features include a fountain, pavilion, benches, bike racks, trail lighting and outdoor fitness system.
Sadye Gibbs Martin Community Center
Located at 302 South Maryland Avenue, Sadye Gibbs Martin Community Center guests can enjoy basketball, volleyball and pickleball. For more information or a complete list of scheduling options visit www.PlantCityGov.com/ParksRec or call 813-659-4253.
FOOD/DRINKS
Jonson's Barbecue/Fred's Market Restaurant
These family-run establishments have been serving up mouthwatering barbecue and comfort food with a side of Southern hospitality since the 1950's. These two restaurants are located side-by-side at 1401 and 1407 West Dr. Martin Luther King Jr. Blvd. Johnson's is your go-to spot for pit-smoked meat, burgers, wings, classic southern sides and dessert. Fred's offers a farmhouse feel with all manner of southern homestyle cooking, served buffet-style.
Located in the heart of downtown at 101 E. J. Arden Mays Blvd., Krazy Kup is a local haunt for residents and visitors alike. It offers one of the most fun coffee experiences you'll find, with unique decor, baked goods, snacks, wraps and of course, plenty of fresh-brewed hot and cold coffee beverages. It's also home to a number of entertainment options in its upstairs loft, ranging from open mic nights and retro movie-showings to live musical performances. There's always something happening at this hip hangout. Visit its website at www.krazykup.com to learn more about its menu and entertainment schedule.
Norma's
Stop at Norma's for some of the best Spanish food in Plant City. Not only does the downtown eating establishment serve sandwiches, tacos, salads, soups, bowls and traditional sides, but they're also home to one of the best Cuban sandwiches in the area. Norma's is located at 120 North Collins St. and is open from 10 a.m. – 4 p.m. every Monday – Saturday. For more information visit www.normasplantcity.com.
Bruton's Cigar Shop
According to its Website, not all smoke is created equal and that couldn't be more accurate because Bruton's is in a class by itself. Whether you're savoring a cigar from its retail shop or a cocktail from its full service bar, climb the custom-built spiral staircase to enjoy a grand view from the rooftop lounge overlooking the streets of historic downtown Plant City. For more information or its hours of operation visit www.brutonscigarshop.com.
Roots Tap Room & Wine Bar
Roots is a low-key bar in downtown Plant City that offers something on tap for everyone. With several wine options and eight rotating drafts ranging form a light pilsner to an imperial stout, Root's strives to always have a beer available for you, no matter your taste.
Located at 101 South Evers St., you can check their ever-changing list of beers available on tap at www.rootsofplantcity.com.
Keel Farms
Stop by Keel Farms while you're in town for a chance to tour the grounds, taste their award-winning wines, ciders and beers, hand-pick your own bushels of strawberries from their 25-acre farm and grab a bite from their handcrafted menu of upscale pub-style food.
For more information about Keel Farms, Keel & Curley Winery or to make a reservation, visit www.keelfarms.com.