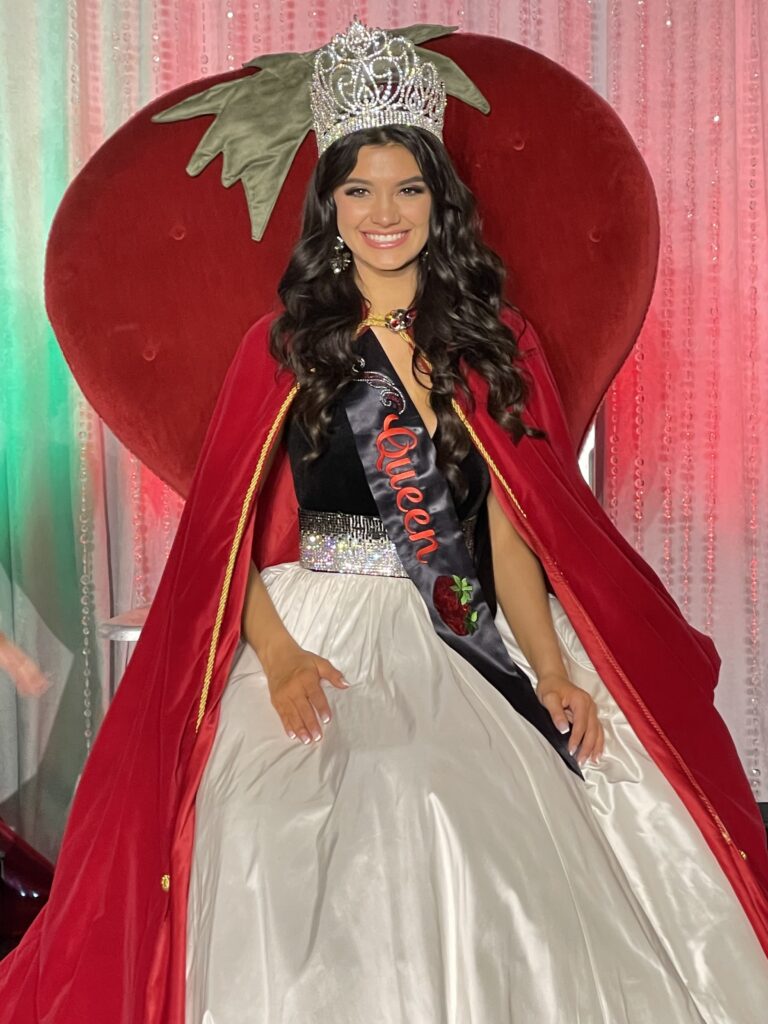 Durant High School junior named 2023 Florida Strawberry Festival Queen.
When 2023 Florida Strawberry Festival Queen's Pageant contestant Kennedie Clinton randomly drew Contestant #1 from a basket of contestant numbers, she never realized it would portend an outcome that she had dreamt about since she was a child. Clinton, a junior at Durant High School, earned the #1 spot and was named the 2023 Florida Strawberry Festival Queen.
"The second they called my name my legs just gave out beneath me," said Clinton. "I couldn't believe they called my name." Her heart was filled with gratitude for everyone that helped make her dream come true.
"As we were standing there, the top five, I was just praying to God because I could see the crown on any one of their heads," said Clinton.
She's thankful for the friendships made with all of the contestants. "There were 23 other girls in the pageant that did an incredible job and every single girl radiated kindness," she said. "I can't wait to spend the next year with the First Maid and Court members, we're already thinking alike and finishing each other's sentences."
Clinton, the daughter of Michael and Michelle Engle, is no stranger to pageants. She was the 2022 Florida Strawberry Festival Junior Royalty Queen, a semi-finalist at Miss Florida Teen USA 2021 and 2022 and Face of the Year at the 2022 National Princess America Pageant.
This beauty has brains too. Clinton, a member of the National Honor Society, earned high marks on the 2022 PSAT, making her eligible for the 2024 National Merit Scholarship Program. She is also a member of the National English Honor Society and National Art Honor Society.
She's served the community in many ways, including assisting at Last Friday and other events with Plant City Main Street, The Plant City Chamber of Commerce and Plant City Aspire Women's Club and multiple volunteer art projects with the National Art Honor Society.
Even though it's been almost a week since she was crowned, she still wakes up every morning in awe that she's Queen. "I'm still processing it but I'm so excited to see what this year is going to bring," said Clinton.
Q & A
Q: What's your favorite part of Florida Strawberry Festival?
For me, it's the concerts not only because they're a blast, but because I have special memories from them. When I was three or four years old, I went to my first Florida Strawberry Festival concert and saw Kelly Pickler. As a young girl I looked up to her, seeing her live was such a special experience. I even have a Little Mermaid stuffed animal she signed for me during the concert. I'm really looking forward to experiencing a few of those concerts in a completely different way. It's going to be such a full-circle moment, growing up and seeing the queen and her court there and now to be in their shoes.
Q: What's your favorite Florida Strawberry Festival food?
For me it's fried Oreos. They always hit the spot.
Q: Do you have a hope for the Florida Strawberry Festival?
I'm really hoping we have nice weather for the Festival.
Q: Who's your role model and why?
Taylor Swift is my role model because she's always stayed true to herself throughout all of the criticisms she's dealt with and never changed for anyone.
Q: Is there anyone you'd like to thank for helping you reach your goal?
I relied on a plethora of people. It really does take a village. Other than my family and close friends I worked with former court member Emma Miller, Mr. Wesley Joyner at The Bank of Tampa, former Miss Teen USA Breanna Myles and Carlos Morales. So many people helped build up my confidence in public speaking. Tommy Hubble helped me learn about agriculture because I went that extra mile to show I want to be involved in all aspects of the community. It was a great opportunity to learn more about it and all the work that farmers put into the Florida Strawberry Festival. I learned that strawberries need to be kept in containers at 32 degrees.
I feel so grateful for the farmers in our community who make sure we have food on our table every day.
Q: What are you most looking forward to about your year on the Court?
We've already hit the ground running. There's so much to look forward to: the media party, the 11 days of the festival. I just think the main thing is the people we get to meet at the events during the next year, people we may have passed on the street that now we'll get to know personally. I'm so grateful for this opportunity.