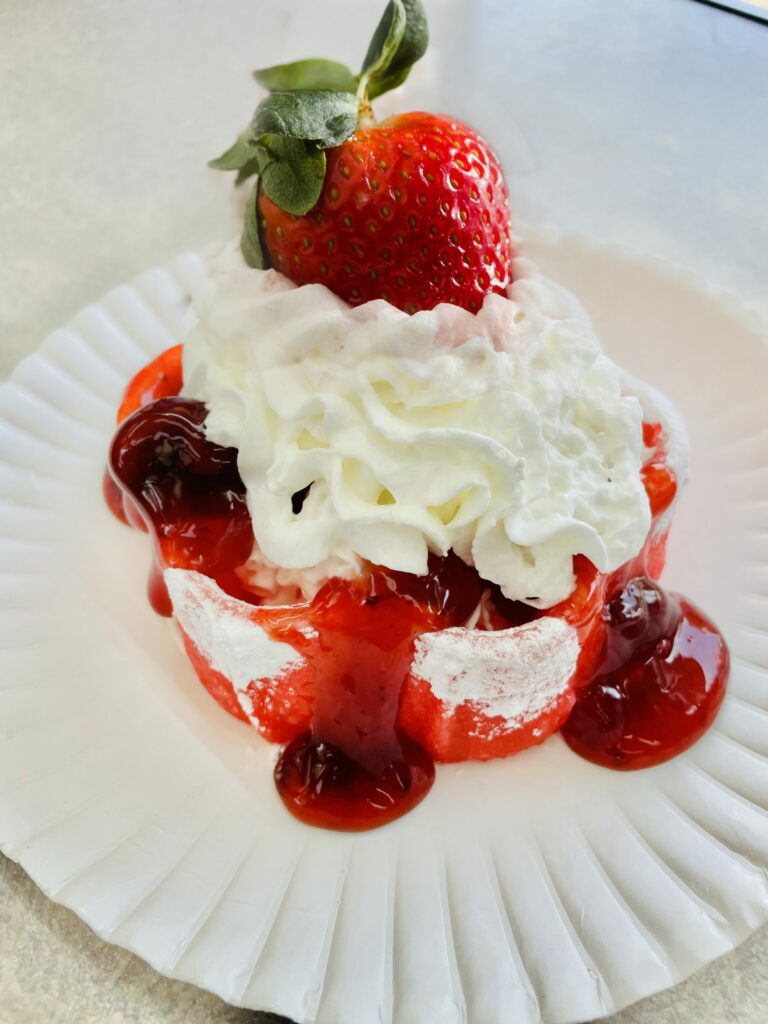 Oh the food. Sweet, salty, strange, tasty, on-a-stick, on a plate, in a bowl, there are eight new foods at the 2023 Florida Strawberry Festival and more than half of them feature Plant City-grown strawberries. Start planning which foods you will try this year. Try one or all of them.
Mrs. E's Strawberry Freeze
An iced strawberries and cream refresher! A delightfully fresh strawberry-flavored snowball, coupled with condensed milk and topped with whipped cream and a chocolate dipped strawberry. It tastes as good as it looks! Located at A&M Concessions on Edwards Street.
Very Berry Sugar Waffle
A strawberry-flavored sugar waffle dusted with powdered sugar, a heaping mound of fresh strawberry filling, piled high with whipped cream and topped with a fresh strawberry. Located at Fain's Concession on the Southside of the festival grounds.
Very Berry Battered Corn Dog
A sweet and salty combination that is too delicious to pass up! A berry-battered corndog, deep fried until golden brown and served with a sweet strawberry syrup. Located at the Dessert Factory near Edwards Street on the West side of the festival grounds.
Mac Stack
A hunk of sweet cornbread, piled high with a savory helping of slow-roasted pulled pork, a dollop of mac-n-cheese with BBQ beans, tangy coleslaw and drizzled with barbecue sauce. Located at Piggy Palace on the Southside of the festival grounds.
Sandy Ann's Old Fashion Fried Pies
Fried pies just like momma used to make! These light and flaky pies come in a variety of flavors including apple, blueberry and, of course, strawberries and cream. Located at Sandy Ann's Old Fashion Fried Pies near East Independent.
Fried Oyster-Mushroom Po Boy
A crispy fried oyster-mushroom on a toasted bun topped with lettuce, tomato, pickle and a generous smear of remoulade sauce. This vegan-friendly option comes with a side of seasoned rice and smoked beans. Located at Seasoned Greens near the West end of GT Grandstands.
Langos Ear
A langos is a Hungarian deep-fried flatbread. The Best Around has combined their traditional elephant ear batter with this European recipe to make a savory garlic-buttered flatbread, topped with a homemade cream cheese and sour cream blend and sprinkled with real bacon crumbles. Located on the North side of the Entenmann's Strawberry Tent.
Pumpkin Patch with a Strawberry Twist
Homemade hard pumpkin ice cream garnished with a generous serving of marshmallows and graham cracker crumbles, a maple syrup drizzle and topped with fresh Plant City strawberries. This sweet treat is at Polar Bear Concessions located on East Independent near Neighborhood Village.