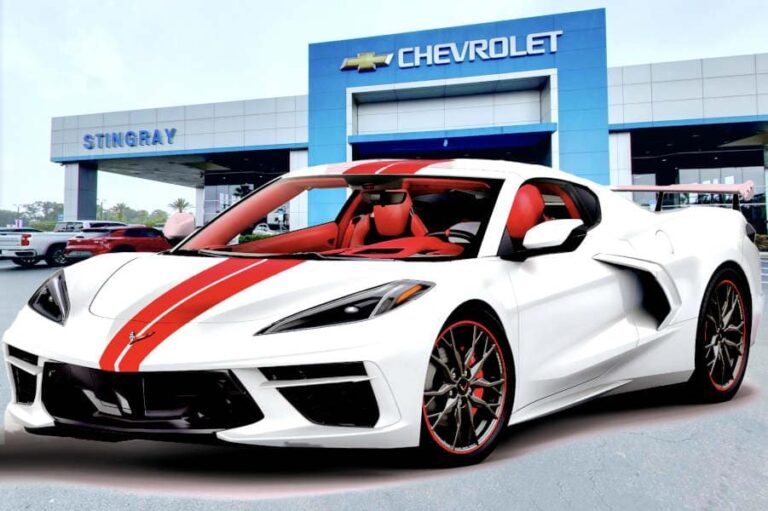 For the fourteenth year, Stingray Chevrolet has donated a brand-new Corvette to be raffled off at the 2023 Florida Strawberry Festival.
The car, a 2023 Corvette Stingray Coupe 3LT, valued at $82,280, features a 490 horsepower 6.2L V-8 engine, an eight-speed dual-clutch transmission, rear-park assist, HD rear vision camera and a lightweight-removable roof panel. Other bells and whistles include an eight-inch touchscreen, Bluetooth technology, voice recognition, 10-speaker Bose Premium audio system, wireless charging technology, theft deterrent system, high wing spoiler and forged aluminum wheels.
In a nod to the Florida strawberry, the vehicle's luxurious leather interior sports Adrenaline Red Napa. The sports car's exterior is painted Arctic White with dual red racing stripes.
"I can tell you that I'm looking forward to the most successful raffle yet," said Stingray Chevrolet Owner Steve Hurley. "The Arctic White color of this 3LT trim level Corvette with solid Adrenaline Red interior and red dual racing stripes is stunning!"
All the fundraiser proceeds will benefit Unity in the Community, tht provides assistance to underprivileged families and seniors in need. Stingray Chevrolet has raised over $2.5 million dollars for Unity in the Community since they began the annual vehicle giveaway in 2010.
Tickets for the drawing are $5 each and are available at the dealership located off exit 22 on I-4 in Plant City until 6 p.m. on Friday, March 10 and also at Stingray Chevrolet's vehicle display on the festival grounds during the 11-day event until 4:30 p.m. on Sunday, March 12. Tickets can also be purchased online (a $2 processing fee will be applied to online sales) at www.stingraychevroletraffle.com until 3 p.m. on Friday, March 10. Individuals can purchase a maximum of 50 tickets/$250 donation.
The winning ticket will be drawn at 5 p.m. on March 12 at the festival. The winner need not be present to win and will be promptly notified by phone.
All proceeds from the raffle benefit Unity in the Community, a Plant City based non-profit organization that contributes to local youth organizations and other groups who provide assistance and support to a variety of organizations including such worthy causes as community service scholarships, backpacks for needy students and local food banks.
"The unique relationship between the Florida Strawberry Festival and Stingray Chevrolet has made it possible for 'Unity in the Community' to raise more funds than any other fundraiser benefiting the organization," said Hurley. "This would not have been possible without our partnership with the Florida Strawberry Festival."