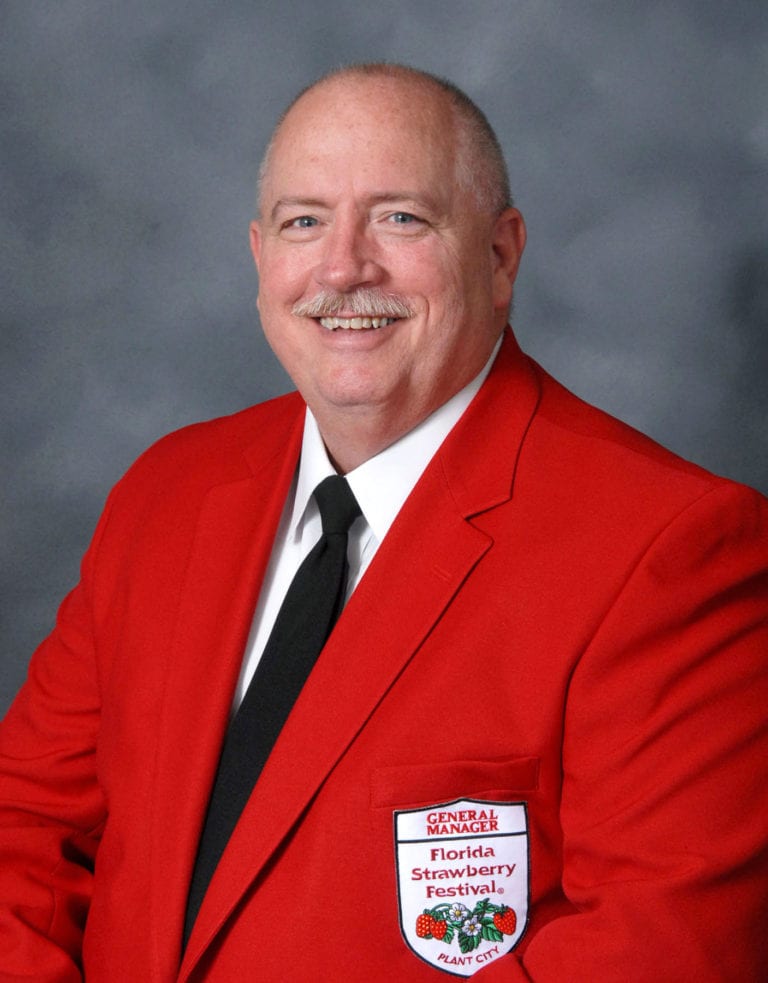 Welcome to the 88th annual Florida Strawberry Festival
I hate to disagree with Andy Williams, but the "Most Wonderful Time of the Year" is actually happening NOW! The 88th Annual Florida Strawberry Festival begins today, and what a celebration it will be. It's a time to celebrate our abundant agricultural harvest, our dedicated farmers, our loyal guests, and the town of Plant City that we all proudly call home. During the next 11 days, our city will be bustling with visitors from all over the world who have waited a year to experience the charm of our festival and the sweetest strawberries grown anywhere in the world. Roll out your welcome mat because it's time to extend the hospitality for which Plant City, Florida is famous.
Whether you're a festival veteran or a first-time visitor, be sure to include seeing the new entertainers and attractions we're bringing in for you including the Jersey Girls, Rockland Road, Nerveless Nocks Jetpack Flying Water Circus, the Berry Big Wheel, and more. Our loyal concessionaires are busy preparing your favorite treats and whipping up new ones like the Very Berry Sugar Waffle, Berry Battered Corn Dog, Mrs. E's Strawberry Freeze (a nod to everyone's favorite vendor manager, Mrs. Ellany), Mac Stack, Sandy Ann's Old-Fashioned Fried Pies, Fried Oyster-Mushroom Po' Boy, Langos Ear, and Pumpkin Patch With a Strawberry Twist. We're also looking forward to our new "Special Smiles Day" which will take place on Friday, March 3rd from 9 a.m. to noon. On this day we will offer free entry to guests with special needs and one caregiver to enjoy a safe, fun, and sensory considerate environment. We have constructed new restrooms at your request, added pavers under the stadium grandstands, and spruced up the grounds in anticipation of your arrival. In addition to the new, we'll be bringing back the festival traditions you know and love: 24 of the country's top musical acts, hundreds of food vendors, nearly 100 rides, hundreds of animals, and too many world-famous strawberry shortcakes to count.
On a personal note, as I embark upon my final festival and approach my April retirement, I am flooded with emotions and memories. It's hard for me to believe that it's been 15 years since I first stepped foot on the Florida Strawberry Festival grounds as its president. I recall feeling immensely blessed at the opportunity to lead the operations of Plant City's longest standing tradition, and that feeling has never faded. I grew up in this community, and the festival has always been part of my existence. The challenge of operating this world-renowned event that draws over half a million visitors in just 11 days has been thrilling. As exciting as it has been to book legendary acts, construct new facilities, and navigate an ever-evolving industry, the truth is that the people are the aspect I will cherish most. To the volunteers, stakeholders, directors, and associates, I extend my sincerest gratitude. Your work ethic and pride in this festival truly amaze me. To our city government, law enforcement, restaurants, hotels, and businesses, our success would not be possible without your support and encouragement. To the staff, thank you for coming to work for more than just a paycheck but for the love of this community and the values we hold dear. And finally, I thank our farmers. You are the backbone of our community, and it is the literal fruit of your labor that entices people from all over the world to visit Plant City, Florida.
Although I am retiring as president, I will be a lifelong Florida Strawberry Festival patron, volunteer, and champion. I have the utmost confidence in President Elect Kyle Robinson and know that his leadership will carry the festival in the best direction. Thank you, my Plant City family. I love you all and look forward to seeing you soon at our harvest celebration.