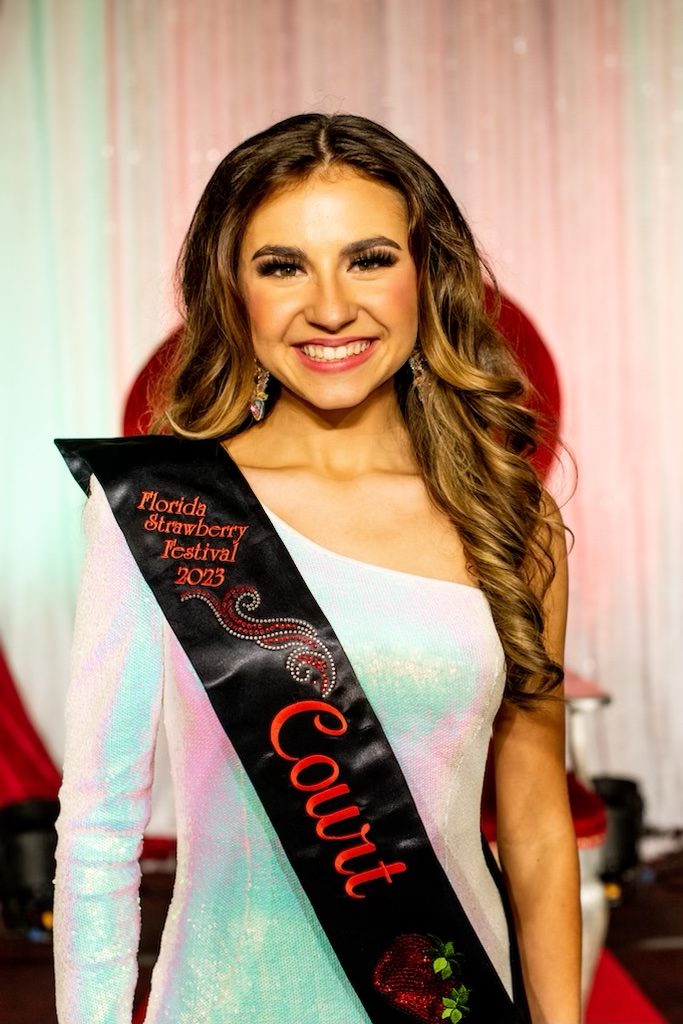 2023 Florida Strawberry Festival Court member Kaleigh Salmon, daughter of Fred and Donna Salmon, is a junior at Plant City High School and dual-enrolled at Hillsborough Community College. She is currently ranked in the top two-percent of her class with a 5.2 GPA. She is a member of National Future Farmers of America Organization, Interact Cub, Youth Alive, Fellowship of Christian Athletes and Student Government Association. She enjoys competitive horseback riding, raising her market steer, spending time with family and fishing with her dad.
Salmon said being named to the Queen's Court is a blessing and dream come true and hopes that during the next year she can convey her love of agriculture with others. "I'm very involved in FFA and want to be a voice for the farmers that call Plant City home," she said. "Agriculture is what makes this community live and breathe so I want to be a voice for that."
Q & A
Q: Who has supported you during your time as a contestant?
My family's love and support has been so heartwarming to see. I also recognized how much my dad was invested in supporting me in the pageant. He brought me food, had to get my hair extensions when I forgot them, I'm just so thankful for his support.
Q: What are your thoughts about being named to the Queen's Court?
Growing up I've looked up to the queens and their courts and it's inspiring for me to continue that legacy. I just want to say there were 24 strong and capable young women and I'm thankful that the judges picked us to come together and represent the Florida Strawberry Festival. I feel like we mesh so perfectly but I want to give a shout out to the 19 girls that weren't selected because they are beautiful and capable young women too.
Q: What are you most looking forward to about your year on the Court?
Like I said in my onstage interview question, I want everyone who walks through the gates of the Florida Strawberry Festival to be seen and heard. I'm relationship-driven. We come together as a community at the festival. Investing in our community is so important and I hope we can build relationships with people that will last a lifetime. I also look forward to being a role model to little girls in the community. We also have so many 'strawberry sisters' in the community supporting us.
Q: What's your favorite part of the Florida Strawberry Festival?
For me, my favorite part of the Florida Strawberry Festival is the way the community supports youth in agriculture with the livestock sales and shows. Everything about our community is rooted in agriculture and seeing the community come together for that is so special. This is my first year growing plants for the Plant Show and they're a little brown right now because of the freeze.
Q: What's your favorite festival food?
My favorite food at the festival would have to be the Amish donuts. I wait all year for them and I make sure to get two of them; one to eat at the festival and the other to heat up in the microwave the next morning to eat for breakfast. I also love chocolate covered strawberries This year's court is going to be the ones that LOVE festival food!