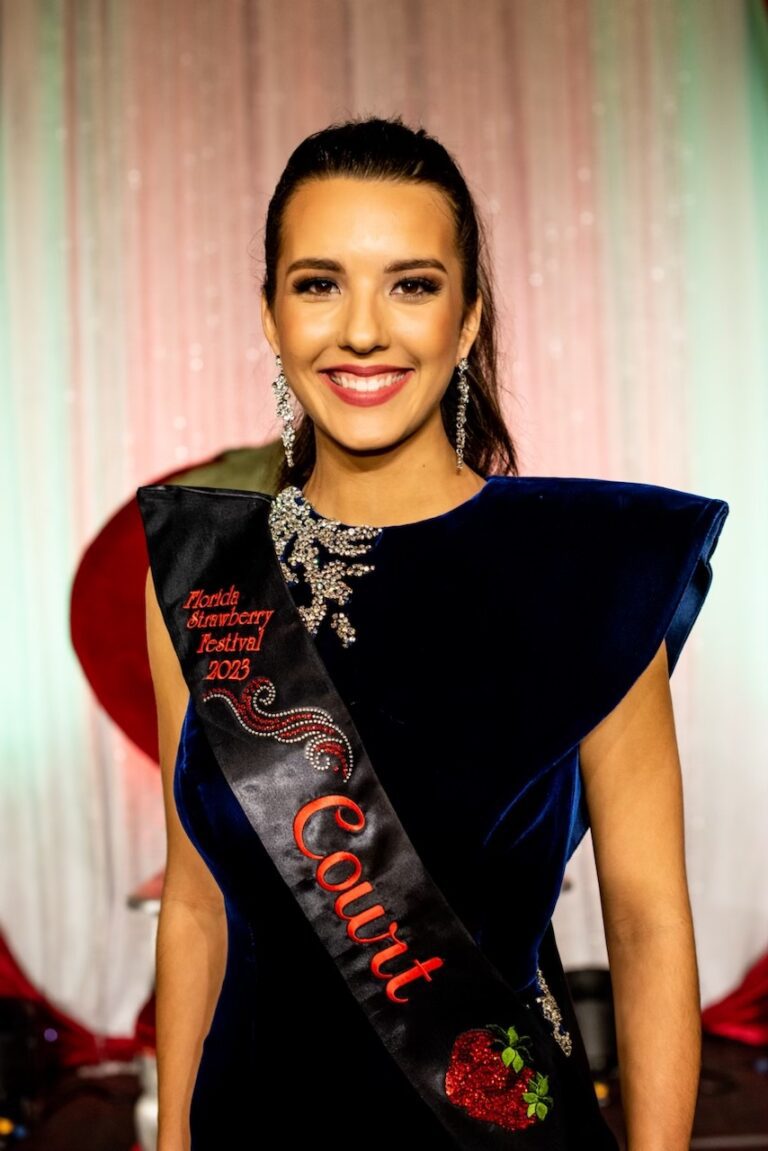 Strawberry Crest High School senior Addison Reid Raburn is a member of the 2023 Florida Strawberry Festival Court.
2023 Florida Strawberry Festival Court member Addison Reid Raburn, daughter of Ed and Christie Raburn, is a senior at Strawberry Crest High School and dual-enrolled at Hillsborough Community College. She is currently ranked second in her graduating class. A student athlete, Raburn is a member of the varsity golf, volleyball and cross-country teams. She is a member of Future Farmers of America, National Honor Society, Student Government Association, Fellowship of Christian Athletes and Principal's Leadership Team. She is a mentor at Lincoln Elementary, volunteers at the United Food Bank of Plant City and helps make book house libraries for local elementary schools.
Last year, she was a a top ten finalist in the Queen's Pageant. When she heard her name called in the Top 5, she was elated and excited to make a positive impact on the community. "This year I got to serve as president of my National Honor Society chapter and got hands-on experience serving my community," said Raburn. "I can't wait to incorporate my ideas in the Florida Strawberry Festival this year."
Q & A
Q: Who is a part of your
support system?
My mom and dad were both athletes growing up but they were so supportive of my decision to enter the pageant. I'm so glad I did because being with the other girls is so much fun. I'm also thankful for my coach Katie Butson, who didn't just help prepare me for this pageant but for life and the future. I can still hear her voice in my head reminding me to hold my shoulders back.
Q: What was going through your mind when your name was called as Queen/Top 5?
I'm not a crier but I was really trying to hold back the tears. I was thinking 'don't cry' but I was just so excited. I also felt an overwhelming amount of gratitude and thankfulness.
Q: What are you most looking forward to about your year on the Court?
I'm really excited for the festival and experiencing it in this way as a Court member. It's going to be so fun and so different, getting up close for the concerts and wearing all of our matching outfits. We're going to get to bond over those 11 days and see everything that goes into the festival, I'm really looking forward to thanking the 2,000 volunteers that make the festival happen. we have a community that really cares about the success of our festival and I can't wait to thank them and show my gratitude for everything they do for us.
Q: What's your favorite part of the Florida Strawberry Festival?
My favorite part of the festival is the livestock show. I love going back and being in the barn. My favorite part is the night of the sale because we see all the community support pour in that night. The agriculture kids, they're the future. It's really neat to watch the next generation come up and seeing the support the community gives them is amazing.
Q: What's your favorite food at the Florida Strawberry Festival food?
I love the Fiske French fries and depending on how I'm feeling I eat them with vinegar or without vinegar.