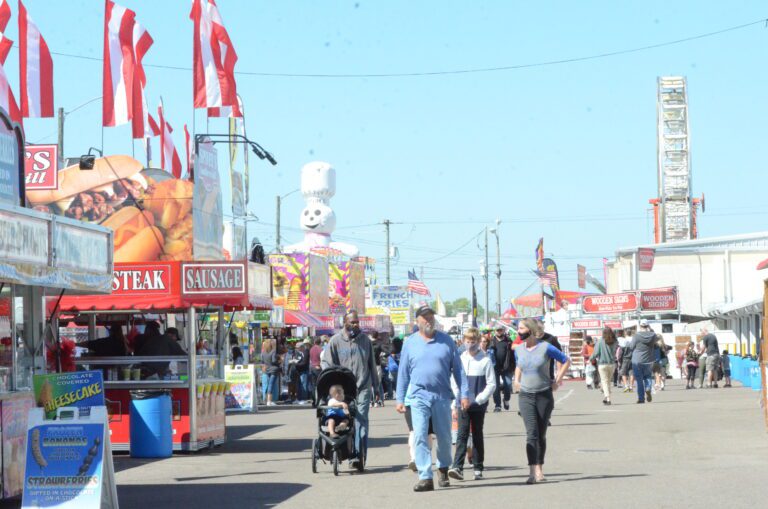 Glancing through all of the events and shows and displays that are offered at the Florida Strawberry Festival can feel overwhelming at times. Luckily for you, the Plant City Observer's staff is here to help.
Taylor Jenkins
As I've said, my favorite thing about the festival is the food. But when you're not in the mood for festival food, or when you've had your fill, there are still plenty of ways that you can enjoy them without continuing to rack up your calorie count!
Eating contests will be held throughout the festival to leave you awestruck by the gastronomical feats achieved by the participants. Some of the eating contests are a bit more traditional, by festival standards at least, like the Super Dog Mega Corndog Eating Contest on March 9. Others bring a bit more absurdity to the table — no pun intended — like the Strawberry Spaghetti Eating Contest on March 7 or the Strawberry Mashed Potato Pie Eating Contest on March 11.
If the engorgement of others for your entertainment isn't quite your speed, you're not out of luck yet. The Demonstration of Strawberry Production exhibit is held by the Florida Strawberry Growers Association and can be found just west of the Publix Showcase Tent, featuring a miniature strawberry field with farming equipment on site and knowledgable professionals that could answer all of your questions about strawberries and the massive industry that surrounds them. And if you head to Neighborhood Village you will find a room dedicated to the festival's contest and pageant winners, with ribbons marking the top-ranked preserves, jellies, jams, cakes and other baked or preserved goods.
While in Neighborhood Village, make sure you spend some time giving the room a look around. In addition to their food-based contest winners, there are numerous displays that highlight the winners of other contests that range from woodworking to scrapbooking and knitting. But arguably the most beautiful display in Neighborhood Village is the Strawberry Queen's exhibit, two rows adorned with lace and red carpet that shines a light on this year's queen, one former featured queen and every other Strawberry Queen in the pageant's history, dating back to 1930.
For animal lovers, the Patterson Co. Livestock Arena will play host to several livestock shows throughout the entirety of the festival. For more fun, you can check out the Dairy Costume Ball on March 6 or the Lamb Costume Contest and Lamb Jumping Contest on March 7. Or for more serious livestock enthusiasts, the arena will hold livestock shows at different times almost every day.
And don't forget to stop by Stingray Chevrolet vehicle display to purchase your raffle tickets and enter to win the brand new 2022 Chevrolet Corvette Convertible that will be raffled off on the final day of the festival.
Brian Fernandes
Chances are the Strawberry Festival may come along with some humidity outdoors. If you want a sweet treat to help quench your thirst, there's always creamy lemonade by Bri's Teas. It's a nice combination of lemonade and dairy with a bit of sugar. Bri's Teas is located on the east side of the Hull Armory Building – 2202 W. Reynolds St.
With over 80 attractions, it would definitely be worth a walk for me to jump on any number of rides. Anything that sounds the least bit scary – I'm all aboard. The Universal Horror, Alien Abduction, Ring of Fire, Typhoon, Drop Zone, Cliffhanger, Dark Ride, and Cyclone Coaster are on my list.
Although we've mentioned the many new foods that will be at the festival, I'd like to share the ones that I think would be worth my walk.
Fried Mac and Cheese Balls. Turning an all-American dish into an even more delicious treat works for me. This will be located at Seasoned Greens near the GT Grandstand entrance.
The name alone makes Applewood Jack Fruit sandwiches worth a try. And if you're looking for a substitute for meat, like myself, then this might be for you. This is going to be located at the Seasoned Greens near the GT Grandstand entrance.
I can never get enough of any food that has macaroni and cheese associated with it. At Holy Macaroni, you receive gourmet macaroni and cheese, with a choice of pasta, a three-cheese blend, and various vegetables, meat and seafood. This will be located on Edwards Street.
There's also a number of vendors that I may drop by.
Annie's Pooch Pops has all natural pet treats. Although I don't have a dog, my friend's Jack Russell Terrier will enjoy something from there.
This vendor will be located in the Parke Exhibit Building south of the TECO Expo Hall.
Then for my sweet tooth, there's the Caramel Kitchen which has an assortment of caramel sauces in different flavors including, salted, bourbon, chocolate, cinnamon, vanilla, espresso, and chipotle.
Whatever you choose at the festival, I'm sure it will all be worth the walk.