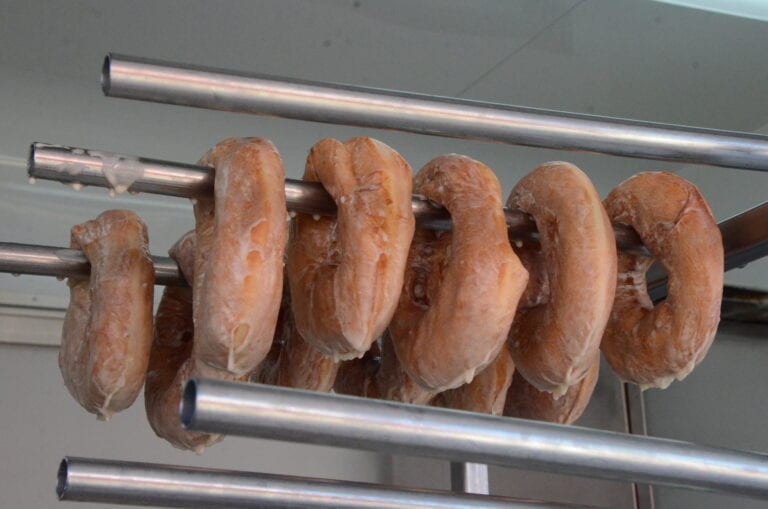 The Observer staff reflects on some of their favorite festival foods and explores the new list of offerings at this year's festival.
BREANNE WILLIAMS
If you're coming to the Florida Strawberry Festival, my money is on the fact that you intend to get yourself a heaping pile of strawberry shortcake while you're here.
I'm not a betting woman, but I am so confident that shortcake is fully on every attendee's radar that I'm not going to waste my breath on pointing out some of the best locations around the grounds to get the sweet and delectable dessert.
While some humans are able to carve a worthwhile existence out of a strict — and often bland — diet that keeps their arteries clear and their BMI in a healthy range, most of us tend to get genuine joy out of food. We are good most of the time, but when we stray we want it to scratch the itch we'd been ignoring.
As a reporter who works in Plant City, I normally find myself at the festival all 11 days. Some days I'm popping in, snapping photos at an event or two and then ducking back to the office. On others, I'm there from open to close as I run around from shows to events to interviews on the grounds. Breakfast, lunch, dinner and all the snacks are fair game.
The truth is, I don't love fair food. When I do eat it I have to have it in small doses. But there are without a doubt booths at the festival I return to on a near-daily basis.
Hands down one of the best experiences you can have at the festival lies with a booth near the entrance to the Midway. You can smell Island Noodles well before you see them, as the savory aroma draws you in like a siren luring a sailor toward a hidden reef.
Soba noodles combined with 21 vegetables, garlic, ginger and an island sauce fill massive woks. Chefs whip up fresh batches all day long. The best part? The traditional noodles have no dairy, nuts or meat products. However, if you're looking for some protein you can add teriyaki chicken breasts, which are prepared with separate utensils than the noodles themselves.
I am not exaggerating when I tell you that I was at this booth at least eight times last year. I'd get my take-away box, squirt some sriracha onto the near overflowing mound of noodles, grab a set of chopsticks and walk the Midway. It's filling, it's delicious and it's better than anything I can get at a store. When this year's festival opens its gates for the first time, I know precisely where I'm headed.
My friends often mock the fact that no matter what time of year they come over, whether they're dropping by unannounced or give me several weeks' notice, the one staple that is always in my fridge is cheese. I literally have a drawer dedicated just toward housing the variety of blocks, rolls, bags and waxed cheeses I constantly bring back from the market.
It should come as no surprise, then, that Hot Wisconsin Cheese is a top contender for "best festival food of all time." Two menu items, in my opinion, are top-tier treats. The Cheddar Nuggets are probably the go-to snack you should get if you're pleasing a group. Hand-cut cubes of cheddar cheese that are battered and fried make these little nuggets a hit for everyone.
My personal favorite, however, is the Jalapeño Cheddar. It's short, hand-cut strips of jalapeño and habanero pepper cheese that they batter, fry and present in all its glory to my usually far-too-enthusiastic self. It's spicy. It's savory. It's heaven. Word of warning: temperature-wise these babies come out quite toasty so though your heart is going to tell you to inhale them the second they come out, try to wait at least a few seconds before consuming.
Usually after I've burned off every taste bud in my mouth by failing to take my own advice and ripping into the fried cheese delights, I'm desperately searching for an icy beverage. The Netterfields are legends at the Florida Strawberry Festival. Their booths are all over the grounds and they have yet to fail to impress with their mouth watering offerings. Though my friends typically go out of their way to get sausage dogs or turkey legs, my favorite item on their menu is without a doubt their strawberry lemonade.
Head to the Netterfield's Popcorn and Lemonade stand on Edwards Street and Pioneer Village. It's sweet, but not syrupy. Refreshing lemonade with that strawberry twist that makes you really feel like you're taking advantage of the themed event. The sizes are massive as well, so you'll sip on the refreshing beverage for ages.
JUSTIN KLINE
"Festival calories don't count" is something you're guaranteed to hear someone say or read on their t-shirt during the next 11 days. As someone who started to take calorie counts seriously in in my late 20s and early 30s, I wish that was actually, scientifically, true. You'd have to walk around blindfolded with a clothespin on your nose to not find something good to eat on the festival grounds.
But I'm not here to be your dietitian or personal trainer and shame you for even thinking about that corn dog. It's on my mind, too.
If you're like me and enjoy food too much to resist all of the temptation of fried festival fare, you'll embrace the "cheat day." This is the best time for a "cheat day" you're going to get all year. Make the most of it.
When I'm eating enough there to (almost) regret the feeling of going way harder in my next workout, I tend to stick to my guns. I've got a few favorites that I don't think you can go wrong with.
I've waxed poetic in the past about Pickle Barrel's sirloin tips and I'll do it again this time around. That's my absolute favorite thing to eat at the festival. What's not to like about a mix of sautéed onions, peppers and mushrooms, steak and mashed potatoes all in one bowl you can walk around with (if you're feeling brave)? OK, you may not like doing laundry when you get home. That's all I've got. It's the perfect one-stop meal.
The festival's a great place to get an Italian or Polish sausage, too. A lot of people enjoy Spivey's and I could also go for one from Netterfield's right about now. Get some Fiske fries with either one and you're in for a good time.
Everybody knows you have to get strawberry shortcake when you're at the festival. There are several new shortcake vendors on site this year and I don't know which one I'm going to try, but I'll enjoy the pain. When I want something sweet that lactose-intolerant folks like myself can handle with no problems, I go for an Amish doughnut. The hype is real. Believe it all. Get a fresh one and your whole day will be better for it.
Oh yeah, and that corn dog? If you don't already know, go find Smitty's and thank me later.
NEW FOOD
Apple Pie Sweet Potato
Two of your favorite "feel-good" food items combined into one delectable dessert. Swirled with butter and a homemade apple pie filing topped with whipped cream and sprinkled with cinnamon sugar. The Apple Pie Sweet Potato is located at Taylor's Doughboy on the north side of the TECO Expo Hall.
Bahama Breeze Italian Ice
A mixture of strawberry, pineapple, and mango Italian ice layered with fresh-cut pineapples and strawberries. Located at Domi Italian Ice east of the North Exhibit Tent.
Chocolate Pineberry Drizzle
The Pink-A-Boo pineberry treats are a must see and TASTE! They're the industry's newest twist on the traditional taste. Served on a stick and drizzled with white or milk chocolate, this sweet strawberry snack is available at the Chocolate Strawberry Express located in the Parke Exhibit Building. Limited availability.
Deep Fried Éclair
Need we say more? A mini éclair, deep fried till golden brown, dusted with powdered sugar and laced with Ghirardelli milk chocolate. Located at Carousel Concessions near the Neighborhood Village.
Deep Fried Triple Chocolate Oreo
Try a new twist on Deep-Fried Oreos! This delicious dessert is dipped in a "chocolate" cake batter and deep fried to perfection. Topped with sweet powdered sugar, rich chocolate sauce, and whipped cream piled high! The Deep-Fried Triple Chocolate Oreo is located at Taylor's Doughboy on the southside of the Parke Exhibit Building.
Jolly Rancher Slush
Try this refreshing Jolly Rancher slush with a limited-edition Florida Strawberry Festival commemorative cup and loads of sweet treats on top! Located at Apple Fries Concession on West Independent near the Arthur Boring Building.
Mexican Street Burger
It is a quarter-pound hamburger topped with pepper jack cheese, bacon, cilantro, onion, Mexican street corn, fried avocados and drizzled with a spicy sriracha mayonnaise. Located at Carousel Concessions near the Neighborhood Village.
Piggy Stack
It's a meal in a bowl! A piece of sweet cornbread, piled high with pulled pork, BBQ beans, and coleslaw. YUM! Located at Piggy Palace southwest of the Arthur Boring Building.
Strawberry Brownie Shortcake
A traditional shortcake with a brownie twist: moist brownie and sweet Wish Farms strawberries piled high with a scrumptious cream topping. The strawberry brownie shortcake is available at the Berry Amaz'n shortcake booth located south of the TECO Expo Hall.
Strawberry Lemon Ricotta Funnel Cake
A traditional funnel cake mix made with lemon juice and ricotta cheese then fried till golden brown. Layered with a homemade zesty lemon glaze, topped with fresh sliced strawberries, and dusted with a sweet powdered sugar, this is a delicious and decadent treat. Located at Best Around Concessions outside of Candyland Warehouse.
Strawberry Pickle
Here's the dill: it's a strawberry pickle! The traditional dill pickle infused with strawberry flavoring. If you're in the market to try something new, this is it! Limited availability, so don't miss it! Located at the Chocolate Strawberry Express in the Parke Exhibit Building.
Strawberry Piña Colada Smoothie
Just the right mix of strawberries, pineapples, and coconut to make you pucker! Delish! Located at the Cinnamon Bun Saloon near the south side of the Parke Exhibit Building.
Strawberry Red Bottom Passion Italian Ice
Red Bottom Passion is strawberry and mango Italian ice layered with strawberries and topped with strawberry drizzle. Located at Domi Italian Ice east of the North Exhibit Tent.