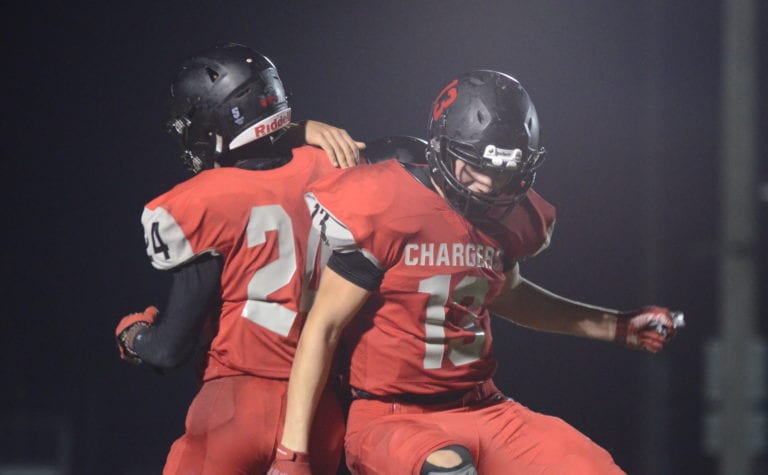 To overcome adversity, the Chargers have learned to control the things they can control and focus on themselves. They finished 2019 on a high note and even COVID-19 couldn't kill that vibe this year.
Last year was quite a challenge for head coach Phillip Prior and the Strawberry Crest Chargers.
Prior was hired late in the summer and joined the team just three weeks before its first regular season game. He had, from a football perspective, virtually no time before then to get to know who and what he had to work with in Dover. Though that first game was a success — a 20-6 win at Leto — Crest soon found itself struggling and lost eight in a row.
But there was a clear turning point in the season where the Chargers finally were able to overcome adversity. Against Brandon in the finale, Crest found itself on the wrong end of an 8-0 score in the second half and battled back. They tied the game at 8-8 in the third quarter, went down 14-8 shortly afterward and took the lead for good early in the fourth quarter with two rushing touchdowns by quarterback Caleb Goodson.
"One of the most proud moments I had last year was, we had a stretch of games where we were getting beat pretty good and we weren't competing," Prior said. "But our kids kept showing up for practice every Monday trying to get better. And we had the Brandon game at the end of the season where it was like, that was kind of a breath of fresh air and a fulfillment of all that work. Our kids, even though we were facing an incredible amount of adversity, they kept coming back."
The 21-14 win was great for the program in the moment and also kickstarted something more positive for the offseason.
The coaching staff saw some changes and there are now several on campus, unlike last year when Prior started at Crest as the only coach in the program who was also on campus. The players made "huge gains" in the weight room and didn't stop working until they absolutely had to: in other words, when COVID-19 hit. Prior finally got the time to evaluate the program that he didn't have last year and could now introduce concepts suitable for these particular Chargers.
"I think one of the biggest things, I came in three weeks before we started the season last year and didn't know the talents of kids, the types of kids we had in the school," Prior said."Now we have an opportunity to run an offense that really suits our kids and gives us the best chance to be successful. Same thing on defense. We have an opportunity to evaluate our kids in our program."
When Hillsborough County programs got the go-ahead to start conditioning and using their weight rooms again in June, Prior and the Crest staff opted to spend more time on the field for a little while and built a foundation to help make the transition to full-on practices starting Aug. 24 a little smoother.
"When we really hit on our first day of practice, we had a lot of things already in place," Prior said. "A lot of our structures for our practices, our drills — we had a lot of that stuff sort of in place. So we really hit the ground running."
Because Crest will field such a young team in 2020, that's a good thing.
The Chargers don't have strength in numbers at the moment, so there will be many sophomores in starting roles and many freshmen waiting in the wings for their numbers to be called during the season. This is especially true of the offense. Goodson, Kadin Durgan and Bryant Lazare, to name a few of the 2019 team's top playmakers, are gone. The only quarterback listed on the roster is sophomore Austin Osborne. Many of those freshmen and sophomores on the team are listed on the roster as playing on both sides of the ball, which plays into Prior's gameplan.
"We want to balance our offense out, but at the same time we want balance in our offense to be about touches and how we can have multiple guys getting the football in their hands and doing it in a lot of different ways. That's a goal of ours this year. I think you become more difficult to defend when you can do things like that in your offense… one week you might look at the stat sheet and see one guy stick out. The next week, you might see another guy stick out. Then the next week, it might all look the same."
Prior believes strongly in establishing the run, so expect a lot of guys to get a lot of touches. Jake Craig, the team's middle linebacker and a three-year starter, will get plenty of snaps at running back, too.
Crest will rely heavily on its seniors this year and that will be a little more visible on defense. Craig, defensive tackle Sebastian Fernandes and safety Connor Dias will be asked to fortify the unit and be good examples for the underclassmen to learn from. Of the sophomores and juniors who saw some playing time after getting called up from junior varsity last year, Prior said, more have experience on the defensive side of the ball.
As excited as the team's seniors are about starting the season and playing well, they're also equally excited about the team's future and the players who will start after they're gone.
There are five tenets of Strawberry Crest football as Prior is building the program: playing great defense, winning on special teams, committing to the run, controlling what can be controlled and, most importantly, competing in every snap in every game. If the Chargers can do all of that, Prior said, things can finally turn around in the "wins" column.
"I think the biggest thing for us and what we want to do is to worry about us," Prior said. "Right now, all we talk about is King. That's our first game. We want to take that one week at a time. We want to worry about ourselves. We control whether we turn over the ball. We control our assignments and things like that. Most of the time in the game of football, those are the things that beat you. We want to control the things that we can control as much as possible and focus on ourselves first and foremost."
The players came back in the offseason hungry, ready to try not to let lessons learned from that win against Brandon slip out of their hands. They came back from the big COVID shutdown even hungrier than before, especially those who were unable to get as much work in for the three-month "extended spring break," as Prior called it, as they would have liked. The attitude in Dover is that now is the time for the Chargers to prove themselves. They want to show people they are not, in fact, a pushover or a doormat or anything like that. They want other teams and fans to know not to underestimate them or write them off as an easy game on the schedule.
They want all that right now.
"We're gonna be young, but we want to compete this year," Prior said. "We want to compete now. We want to prove ourselves to people. And a lot of those scores a lot of people saw last year, we want to make those look different this year… the number one thing in our program is that we want to compete. We had games last year we weren't competitive in. We want to compete in every single game in our schedule this year. That's our number one goal."
SCHEDULE
Note: All games scheduled to start at 7:30 p.m.
Games are broadcast live online at NFHSNetwork.com.
9/11: @ King
9/18: @ Kathleen
9/25: vs. Sumner
10/2: vs. Lakeland
10/16: @ Plant City
10/23: @ Durant
10/30: vs. Bloomingdale
11/6: vs. Freedom
THE DETAILS
Location: 4691 Gallagher Road, Dover
Established: 2009
Head Coach: Phillip Prior (second season with team)
Offense: Multiple
Defense: Multiple
2019 record: 2-8 (0-5 district)
ROSTER
(from MaxPreps.com)
1 David Erskine DB, RB Jr.
2 Devin Blunt DB, RB Fr.
3 Ryan Weems DB, RB So.
4 Marcus Springfield DB, RB So.
5 Jesse Waldrop (C) WR, LB Sr.
6 Biruk Fliegelman RB, DB Sr.
7 Billy Overstreet LB Fr.
9 Connor Dias (C) DB, WR Sr.
10 Brock Craig MLB, RB Jr.
11 Zach Curtin WR, DB Jr.
14 Jaden Baker WR, DB So.
15 Abe Craig LB, WR Fr.
18 Corbin Newman
WR, RB, DB So.
19 Austin Osborne QB So.
20 Quintin Walker DL Fr.
21 Cody Anderson DL Fr.
22 Miles Jones DB, RB Jr.
24 Andrew Raab LB, RB Fr.
25 Carson Brown MLB Jr.
30 Steel Craig DL So.
36 Jake Craig (C) LB, RB Sr.
40 Armando Garcia K, P Sr.
44 Eli Kroslak LB Fr.
52 Cody Craft OL Fr.
53 Alexander Strickland DE, OLB Fr.
54 Tucker Cooper OL So.
55 Dylan Weaver DL So.
56 Ben Bradford OL Fr.
58 Jonathan Clemann OL Jr.
64 Radek Shah OL So.
65 Ben Hill DL Sr.
69 David Miller OL Fr.
70 Sam Shiver OL So.
72 Tyler Oblow OL Fr.
74 Elijah Johnson OL Jr.
75 Cayden Knipp OL, DL Sr.
77 Sebastian Fernandes DL Sr.
78 Jackson Bradford OL Sr.
80 Declan Herrington WR, DB So.
88 Anthony Artalona DL Fr.
99 Rodney Addison DL Fr.