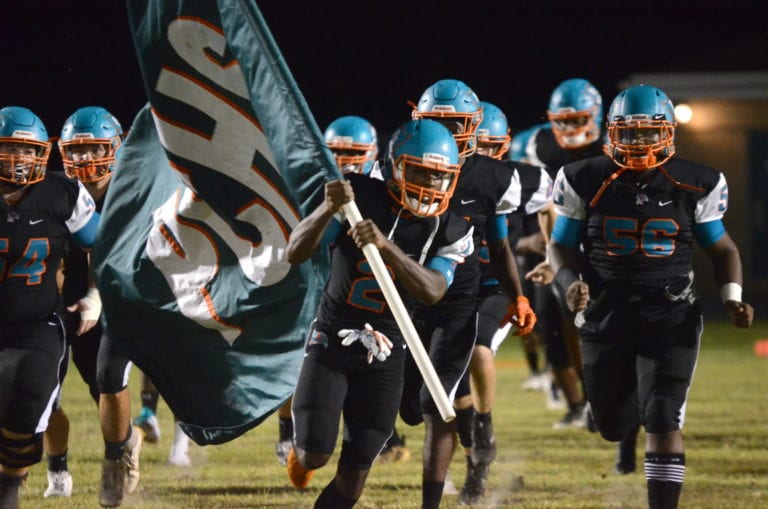 The Raiders lost a lot of key starters to graduation and are working with a much younger, less experienced roster than usual, but the team is excited about its potential this year and beyond.
The Plant City Raiders haven't started a season like this in quite some time.
No, that's not a COVID-19 reference. Nobody's started a season like this, well, ever. The other unusual thing about 2020 for Plant City is that it's going into the season lacking more than usual in two areas: age and experience. The Raiders lost 19 seniors to graduation, and many of them filled extremely important roles on the team: starting quarterback Makenzie Kennedy, workhorse back Zamir' Knighten, top linebackers Tanner Gibbs and Keyshawn Green, defensive line stalwarts Emmanuel Baez and Jeren Bendorf, top defensive backs Antron Robinson and Latarus Wanser, kicker/punter Chris Rodriguez and more.
In other words, there's been so much for the current roster to learn in so little time, thanks to an offseason largely stolen by the pandemic.
"A lot of our kids are new," head coach James Booth said. "We don't have a lot of returning starters. We have kids that have some experience, but not having a spring was really detrimental to a lot of them. Especially in our quarterback position group — we've got a sophomore and two new kids. So we're pretty young and inexperienced with what we want to do. But we got better from day one… so that's what we're looking for every day."
After the 2019 team started the season with a bang, taking down an eventual 11-win Jesuit team on the road, Plant City's grinder of a schedule lived up to its billing and the team finished with a 5-5 overall record (3-2 district). The team did have a chance at finishing 7-3 overall, as it only lost to 12-win Gaither by five points (28-23) and took a nine-win Bloomingdale team into overtime, only losing 37-34 when Chris Rodriguez's last-ditch short field goal attempt was blocked by the Bulls. PCHS also had a shot at the playoffs after winning its final three games (including the Redman Cup), but St. Cloud edged out the Raiders for that final playoff spot by a razor-thin 0.005 RPI.
Then the Raiders, like everyone else, lost their spring game and practices. All they could do was lift weights, do cardio and work on some position drills in Hillsborough County's three-phase summer system that predated the Aug. 24 return to full-on practices.
"We got back here mid-June and we were able to go through the phases and do whatever we could do," Booth said. "Conditioning, lifting, position work… we tried to stay as sharp as we could and get as much in as we could. We finally were able to use a ball on campus, which helped out, but you're looking at maybe three weeks of using a ball before camp actually starts. We're learning. There's a big learning curve going on right now and hopefully we get to see some of our kids rise to the top."
But now that everybody's back in action, there's optimism at 1 Raider Place.
Big things are expected of the players that are returning, regardless of how much prior game experience they have. The biggest advantage Plant City has in its group of returning players is the one and only Mario Williams, who became the No. 1-ranked wideout in the country according to ESPN and committed to play for the Oklahoma Sooners next year. Getting the ball to Williams has been a staple of the Plant City offense since his sophomore season and will continue to be a staple in 2020. The senior is an expert at creating something out of nothing, turning short passes into long runs and blowing up coverages with either his speed or his footwork. Plant City isn't changing up its offensive scheme for 2020 but, since Kennedy graduated and the team doesn't have a similar running threat at quarterback anymore, expect a lot of throws to go Williams' way. The reliable Reagan Ealy is returning to line up across from Williams and Booth also expects transfer Aramoni Rhone, a three-star recruiting prospect, to be an important receiving option. Booth said Williams will also see some action in the team's wildcat formation this year.
If you're unfamiliar with the wildcat, it's a trick formation with two important parts. First, it puts a running back or wide receiver under center instead of the quarterback and moves another skill position player into a wide receiver spot. The quarterback can still line up as a wide receiver and can be used as a decoy. Second, it shifts offensive linemen around to create an unbalanced line that may have three linemen on one side of the center and one lineman and a tight end (who is also an eligible receiver) on the other side. It relies heavily on misdirections to throw defenses off and create unorthodox running lanes for the running back or wideout under center to take advantage of, unless they're asked to throw the ball.
For younger or newer football fans, this was the formation for the iconic "Philly Special" play the Philadelphia Eagles used to beat the New England Patriots in Super Bowl LII. For older football fans, you'll remember this is the formation the Arkansas Razorbacks used when Darren McFadden and Felix Jones spent the 2007 college football season carving up defenses and inspiring basically everyone in the nation to try it for themselves.
The wildcat isn't as popular as it was 10 years ago, especially in the NFL, but it can still work when used in moderation with great athletes — much like Plant City's Williams and Romello Jones. Jones will take over for Knighten as the team's feature back and Booth said he brings an element of speed to the table that wasn't there last season.
"We're really excited about Romello Jones. He's got big play ability, that home run threat."
The Raiders are starting senior Nicholas Felice, who transferred to Plant City before COVID-19 hit, at quarterback in Week 1. Felice previously played for Newsome and helped the Wolves get to the playoffs last year. This is a drastic change of scenery for Felice, as Newsome runs a wing offense that doesn't call many passing plays, but Booth said he has done "really well" learning the PCHS offense.
There's been a challenge in learning a new defensive scheme with updated terminology with far less time than usual, but it appears the Raiders have risen to it.
Plant City's defense underwent some changes in coaching, personnel and scheme in the offseason. The Raiders are moving from a 3-4 base to a 4-2-5 and plan to take advantage of a more athletic group in the back seven. Rhet Conyers and Todd Miller will hold down the fort in the interior linebacker spots and Austin Albright, also a member of the school's track and field team, brings big-time speed and athleticism to the nickel spot. Junior Ian Jolly, whom Booth called "a huge surprise for us," has impressed his coaches and guaranteed himself a spot at cornerback. Sophomore safety Cole Highsmith also made waves in the PCHS camp despite his youth. Booth expects him to be a steady contributor now and develop into a high-caliber player by the end of his time in high school.
In a year that's brought so much change to so many people, the one thing Booth and Plant City are determined to do is to maintain as much normalcy as possible and see where that takes them.
"The goals are the same," Booth said. "We don't have a district championship, but we do have district games. We want to win all of our games, obviously, but we still want to win against all of our district teams. And then everybody's in the playoffs, so we want to make the biggest, deepest run that we can. Everybody has that mindset — in the whole state, really — but we're trying to take it one day at a time."
Update: Lakeland High School was forced by Polk County Public Schools late Tuesday afternoon (after press time for the Football Preview) to cancel their first two games of the season and also put practices on hold due to COVID-19. That means they're no longer playing Plant City on Sept. 18 as originally scheduled.
THE RUNDOWN
Location: 1 Raider Place, Plant City
Established: 1914
Head Coach: James Booth (fourth season with team)
District: 7A-7
Offense: Spread
Defense: 4-2-5
2019 record: 5-5 (3-2 district)
REGULAR SEASON SCHEDULE
Note: All games scheduled to start at 7:30 p.m.
Games are broadcast live online at NFHSNetwork.com.
9/11: vs. Riverview
10/2: vs. Bloomingdale
10/9: @ Tampa Bay Tech
10/16: vs. Strawberry Crest
10/23: @ Kathleen
10/30: @ Durant
11/6: vs. Gaither
ROSTER
(from MaxPreps.com)
2 Mario Williams (C) SB, WR Sr.
3 Reagan Ealy WR Sr.
4 D.J. Littles CB, FS Sr.
5 Reginald Bush CB, RB Jr.
6 Romello Jones RB Jr.
7 Sincere Williams WR Jr.
8 Aramoni Rhone WR, FS Sr.
9 Todd Miller SS Sr.
10 Nicholas Felice QB Sr.
11 Ian Jolly CB, FS Jr.
13 Brent Coton WR Sr.
14 Jae Sawyer WR Jr.
15 Clinton Danzey QB So.
16 Carson Mohler QB Jr.
20 Jermarian Jackson CB Jr.
21 Austin Albright SS Sr.
22 Isaiah West CB, FS Sr.
24 Jose Rodriguez WR, RB, CB Sr.
25 Dawson Traffanstedt CB, SS Sr.
28 Cole Highsmith SS, FS So.
29 Oscar Ordonez QB Jr.
30 Eden Williams CB So.
32 Jalen Foster CB, FS So.
34 Jaden McCants RB Fr.
36 Patrick Connelly Jr. CB Sr.
37 Thaddeus Powell CB Sr.
38 Tebow Navarrete K So.
40 Austin Smith DE, FB, MLB Sr.
42 Jackson Knotts LS, FS Sr.
44 Javoni Mitchell OLB Sr.
45 Trenton Smith CB Sr.
46 Austin Fulghum RB Sr.
48 Brayton Varney LB Jr.
50 Matthew Bollinger MLB Fr.
53 Kaden Mizell DE, G Jr.
55 Rhet Conyers ILB Jr.
56 Jimmie Pettis DT, FB Sr.
57 Kareem Wimes DE, ILB Jr.
58 Trevar Bradshaw G So.
60 Kayden Palmer G Jr.
64 Nelson Cortes G So.
68 William Belen G Fr.
69 Josiah Lancaster OT Jr.
70 Dartavious Robinson C Jr.
75 Andrew Walden OT, DT Sr.
78 Jovani Torres T Jr.
81 Tahauji Miller WR So.
83 Damian Ibarra CB, WR So.
90 Kaylee Hahn K Sr.
99 Donte Woodard DE Jr.