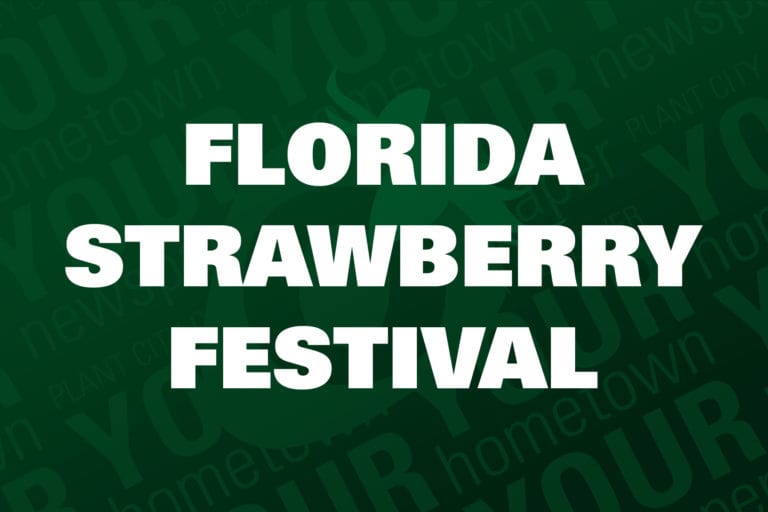 Breanne Williams | Staff Writer
If you're coming all the way to Plant City for the Florida Strawberry Festival, you might as well take a moment to enjoy some of the hidden gems throughout the entire city while you're here.
If your sweet tooth is still craving unique desserts, head down Alexander Street to 32 Below Thai Ice Cream, 208 W. Alexander St. The store is open until 9:30 or 10:30 p.m. most evenings and has some of the best ice cream you'll ever taste. And the experience is one the entire family will enjoy.
When you walk in, you're surrounded by colorful walls and adorable art. Along the left wall is a screen full of flavor options. It's a simple, but fascinating process. Pick a base flavor like vanilla, chocolate, mango, green tea or coffee and then choose your filling. You can grab anything from crushed cookies to candy bar bits to berries. Then the employee will pour the base onto an ice-cold metal plate where it will freeze before your eyes as they mix your fillings into the batter.
As it freezes, they use a scraper to roll slivers of the sweet treat into small ovals and then carefully arrange them into a bowl. From there, you choose anywhere from one to five toppings and can add a variety of drizzles to your cup. If you want to be more adventurous, you can get an egg waffle instead of a paper bowl. The store also has bubble teas and smoothies to cleanse the palate.
If you want to put your finger on the pulse of Plant City, downtown is your one-stop-shop. There's restaurants, parks, the railroad museum and unique shopping all within a few blocks.
While this is by no means a comprehensive list, there's a simple routine my friends and I follow to get the most out of their visits. First, we stop at Krazy Kup and grab a fresh Americano — over ice with a few pumps of vanilla — and then stroll toward the Robert W. Willaford Railroad Museum. There's a two-story train viewing platform on one side of the tracks and the museum lies directly on the other side.
Inside the museum are historic artifacts you'll be hard pressed to find anywhere else. Have you ever seen a motorcycle outfitted for a rail-line? Have you always wanted to have your photo taken on a railcar? If so, the museum is a must-see. Visitors come from all over the world and the guest log in the main room is always filled with signatures hailing from far away.
Once we've strolled all the rooms, checked out the impressive model train and taken more photos than we will ever be able to post, we head across the street to some of our favorite stores. The Kandy Shoppe is full of delectable treats and everything is made right there in the back room. However, the chocolate-covered espresso beans are without a doubt some of the greatest candies ever known to mankind.
Just a few feet away is Tub Treats. Handmade bath bombs, soaps, shower gels, steamers and candles make this store a must-visit destination. You'll be able to treat yourself or buy gifts for your loved ones that they literally couldn't get anywhere else.
Round the corner and you'll pass a variety of antique shops and a quilting store that has anything your heart could ever desire. If antiquing is your preferred way to spend the day, you're in luck. There's an antique store practically on every block. You never know what you'll find and whether you go to The Rocking Horse or the State Theatre Antiques you'll walk out with one of the wildest purchases you've made in a long time.
Brick City Bricks, our local LEGO mecca, has changed the way people play downtown. Families flock to the store to buy new and used LEGO sets and there's almost always a birthday party or special event booked for the backroom during the weekends. The store also hosts summer camps and special builds for the community. Star Wars, Harry Potter, NASA, Marvel and many more fan favorites are all found inside. But be warned: if you spend too long in there, you'll get hooked and walk away with way more than you ever intended.
From there, my friends and I tend to wrap up our day right across the street at Aromatic Harmony. Regardless of whether you're a fan of holistic health, the store has some pretty unique finds. You can get herbs, teas, aromatherapy kits, unique oils and even some distinctive jewelry all in one spot. The owners have immense knowledge on holistic health and can answer any question you may have. You can also book massages and join a wellness circle if you're looking to add an experience to your day of shopping.
Justin Kline | Sports/Associate Editor
f you want a break from the festival but still want to walk around and get some fresh air, Plant City is packed with great parks to check out. You can often catch sports action happening at Ellis-Methvin, Mike Sansone, and Snowden parks, the Randy L. Larson Four-Plex, the Otis M. Andrews Sports Complex and the MLK ball field. In fact, there are collegiate club baseball and softball showcases happening right now — all month, in fact — at these sports parks. If you're stopping by Otis M. Andrews or Ellis-Methvin parks, which are located on East Cherry Street, or even Sansone Park just off of Wilder Road, don't forget to stop by our world-famous strawberry water tower for a photo. You can't miss it.
If that's not your thing, consider heading to Veterans Monument Park north of the Bruton Memorial Library for a moment of reflection and to check out Plant City's salute to those who have served our country. Or, if you want to really get close to nature, check out Edward Medard Park off of Turkey Creek Road, south of Highway 60.
Shopaholics have plenty of options outside of the festival. You can find all the latest strawberry fashions at our many boutique stores, such as Denise Young's, RAOK, Fringe and Tennessee Jane. You can find many festival-themed items at these stores if you want the most stylish Plant City souvenirs around.
When you get hungry or thirsty and need a break from all the crazy fair food, you have options aplenty around town. If you want a fresh take on classic pub-style food, 1916 Irish Pub has you covered and you especially won't find a better burger at any other restaurant in town, in my opinion. Locally-owned Smokin' Aces Steakhouse does both steak and barbecue quite well, if you're in the mood for either. Some of my favorite chicken wings in town are at Duke's Brewhouse. I was a big fan of their Old Bay-covered wings until recently, when I discovered their blackened honey garlic wings and converted. To me, they are perfect.
Norma's and the Strawberry Hut are probably the most popular restaurants in town for Cuban sandwiches. There are plenty of great Mexican restaurants to choose from and for more traditional fare in a sit-down atmosphere, I recommend Mi Casa and Taco Loco. I've never had a bad meal at either. But in my opinion, the best tacos in town are actually at a market. Go to El Mirasol and thank me later.
If you just want to wind down, relax and enjoy a drink and some light food, I strongly recommend Roots Tap Room and Wine Bar. It's got everything you could possibly want from a family and pet-friendly spot and recently started serving gourmet grilled cheese sandwiches.