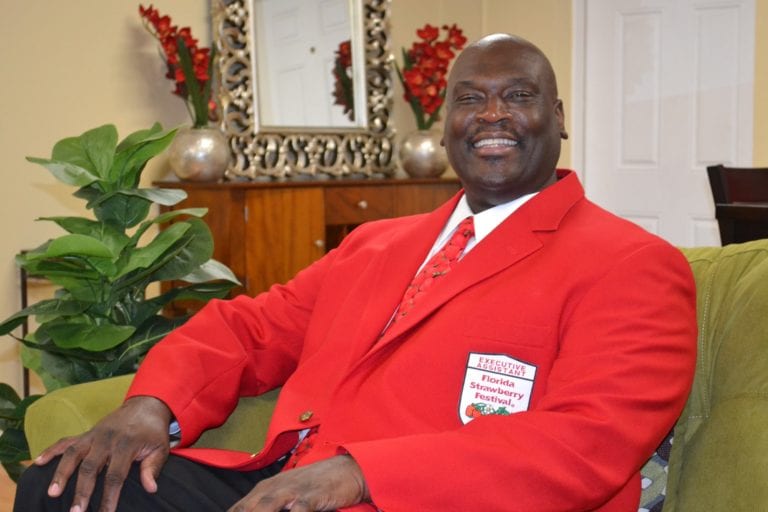 Lovett is the Florida Strawberry Festival's Vice President of Operations. He was previously with Hillsborough County Sheriff's Office and worked security at the festival for many years before joining the staff in 2016 as an executive assistant and security director.
How long have you been involved with the festival?
Prior to being a full-time employee, I was with the Sheriff's Office and worked with the festival for about 15 years. It'll be four years with the festival this April.
What's your earliest memory of the festival?
When I was little, I used to have to come with my sisters and it was an exciting time to come. We always looked forward to coming.
What's your role with the festival these days?
I have the maintenance sections and also security. Maintenance is full-time, year-round. As far as security goes, we're always trying to think of better ways to protect the public along with us. This year, we added 12 more cameras to the property. Not only that, but now all of our cameras are hard-wired for better quality.
What's your favorite memory from the festival?
My favorite memories are coming here and eating. I like to eat.
Who do you like to bring to the festival?
The kids. I love to see their faces light up, love to see them come in and have fun. That's the best thing.
What do you enjoy most about the festival?
Watching all the people enjoying themselves and not having to worry about anything. I love it. I've been at venues where they sell alcohol, but there's no alcohol here and I love it. When I was with the Sheriff's Office, I worked plenty of events where they involved alcohol and when you involve alcohol, a lot of people don't know how to act when they get drunk or inebriated, then you're fighting. Here, it's a family environment and that's the way we want to keep it.
What do people from out of town ask you most often?
I don't know if it's because of my size or what, but they ask me where the good strawberries are at. Where's the good shortcake, what's the best food, you know, where's the good food at… I do know where all the good food's at, but that's what they're asking. I have people tell me they can't wait for the Strawberry Festival to come every year because they love it.
What's your favorite thing to do at the festival?
Walk around and talk with people from different areas to see how they like it. I get a lot of good feedback.
Which concert are you most looking forward to this year?
Patti LaBelle. I do like Josh Turner, too, but Patti LaBelle because she was here two years ago and I wanted to get my picture taken with her. I was supposed to. But our president left a contract up here at the office, so I came up here to get the contract for him and when I got back, she was walking in her dressing room. The guy was like, "I can go get her," but I was like "No, don't bother her, not at all." Paul Davis told me, "What we can do is, we can get you photoshopped in."
What's your favorite thing to eat at the festival?
I also worked over at the state fair when I was with the Sheriff's Office and when I was there, I saw these lines and had to go see what it was. I walk over and it's the Amish doughnuts (now Peachey's). I'm like, "Wow, look at this line!" The lady was kind, she saw that I was in uniform and called me up. She was like, "You want to try one?" I'm like, "Yeah, I see this line, let me try one." So I got one and, man, I was like "Wow, these are good!" I called Paul (Davis) and said "Bro, y'all need to get these people over at the festival! These doughnuts are awesome." Now they're here at the Strawberry Festival. Now, I say that, but then I had the opportunity to try their pretzels. I like the pretzels better than the doughnuts now. I'm a little health-conscious now, so I can't eat six, but I can eat one.
Which eating contest would you try?
It's been brought up, the strawberry shortcake eating contest, but I wouldn't object to the Amish doughnut contest, either.
If you had to convince a total stranger to go to the festival, what would you tell them?
You will have a great time here at our festival. It's a family event and you can bring your kids, your grandkids and you won't have to worry. We were number one in the state of Florida for fairs, attendance-wise, for two years in a row and that says volumes. There's a lot of free stuff here. Free concerts throughout the day. You can ride. You can feel safe.
Which free acts are you most looking forward to seeing?
Kazual. I like Kazual. Very nice guys, down-to-earth guys and they do a great, great show. I like Dennis Lee, too. He gets the audience involved. I really like the Redhead Express, I fell in love with them, but they're not coming back this year. They took a hiatus. Man, I'm gonna miss them and there's a lot of people that's gonna miss them.
What new thing would you like to add to the festival if you could?
I can't think of anything I would add. Jenny Morgan, who does our media, she came up with the idea of a coloring board where the kids can go in Neighborhood Village and color. We have the crayons and everything. It's free, just walk up and start coloring. She also came up with the selfie stations… but the only thing I ask is, please don't bring selfie sticks in. You can't bring selfie sticks in.
Which artist would you book for a concert if you could?
I would love to get J-Lo. I really would. I think she's a good entertainer, a good singer and a good actor, too.