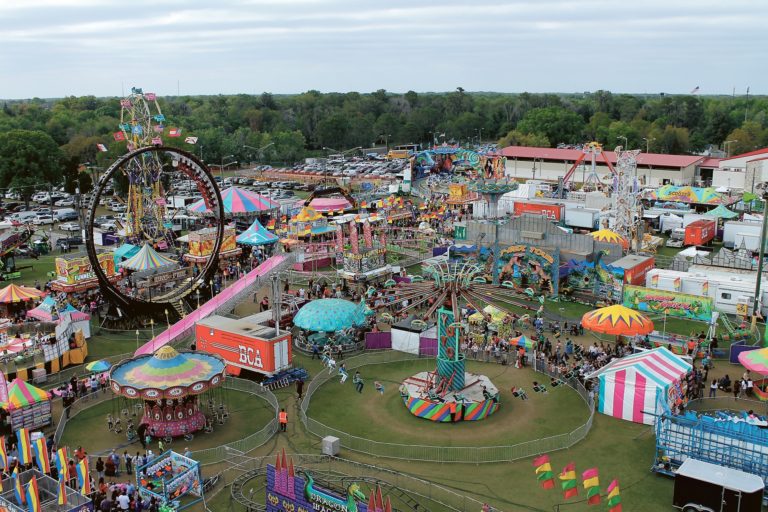 Find out where to park and how to avoid the traffic.
Stepping onto the Florida Strawberry Festival grounds can be overwhelming.
Scratch that.
Trying to find parking before stepping onto the festival grounds can be overwhelming.
Actually, fighting traffic before trying to find parking before stepping onto the festival grounds can be overwhelming.
So how can you navigate through the clutter to make it to the festival in one piece?
Interstate
There are many exits that lead into Plant City.
The closest to the festival and most congested exit is Thonotosassa Road, which leads directly to the festival.
McIntosh Road and Branch Forbes Road exits will lead you down Highway 92 or Highway 574 (Martin Luther King. Jr. Boulevard) to the festival grounds.
The Alexander Street and Paul Buchman Highway exit will split into either street north of the city center. Proceed south on either and look for Baker Street (Highway 92) as you enter town. Take a right on Baker Street, and there is parking throughout the area.
If you take the Park Road exit, go south on Park Road until you hit Baker Street.
"When one (exit) starts to back up the police will begin moving people to the next exit," General Manager Paul Davis said. "Over the last two years, the Department of Transportation and city engineers in charge of traffic control have studied the situation and collaborated on solving the problem."
Other Option
To avoid Interstate traffic, you could also come in on State Road 60. Turn north onto Highway 39 (James L. Redman Parkway). Take a left on Baker Street (Highway 92), which leads to the festival grounds.
Whichever route you choose, expect the freeways into Plant City to be crowded, and remember to bring your patient, good-humored self.
Find a Spot
The enormous popularity of the 11-day event has meant extra challenges for the festival's organizers. Davis acknowledged that parking in the past has been a bit problematic, but changes to mitigate any inconvenience are producing results.
Over the last four years, he said, a significant amount of money has gone into solving the parking dilemma. Four acres have been purchased specifically for parking lots, and law enforcement agencies have become more adept at redirecting people off the interstate when there's a problem.
Total there's almost 20 acres of parking lots, with 10 to 15 acres accessible by shuttles, and 4 acres that offer parking within three to six blocks of the main gate.
Lots and costs:
Blue, gray and red parking lots located on Ritter Street, off of Highway 92 or Highway 574
$5 for vehicles under 20 feet
$10 for vehicles 29 to 39 feet
$15 for vehicles and buses over of 40 feet
Admission
First thing to know: Strawberry Festival general admission and event tickets go fast.
Various Publix stores throughout west central Florida have discounted general admission tickets available starting at just $8 for adults and $4 for children 6 to 12 (kids under 5 are free). A general admission ticket gets you into many of the festival's attractions, including access to all the exhibits and competitions, livestock shows, arts and crafts vendors and free entertainers.
Midway Wristbands
A $30 Midway wristband entitles you to enjoy nearly all the mechanical rides, however do check the website, FlStrawberryFestival.com, for special Midway discount days that can save you $3 to $10 on each wristband.
Hot, Hot, Hot
The weather during the festival has ranged from thunderstorms to sunshine, jacket weather to the low 80s.
Check the weather report on the day you are attending. Don't forget to bring sunscreen and hats, even if it is a cold day.
Lost?
Decide on rendezvous sites in case family members are separated. If you become lost or separated from your party or from your belongings, please see the nearest police officer for help. There is also a Lost & Found Caboose at the east end of the Parke Building. Both missing persons and belongings will be there.