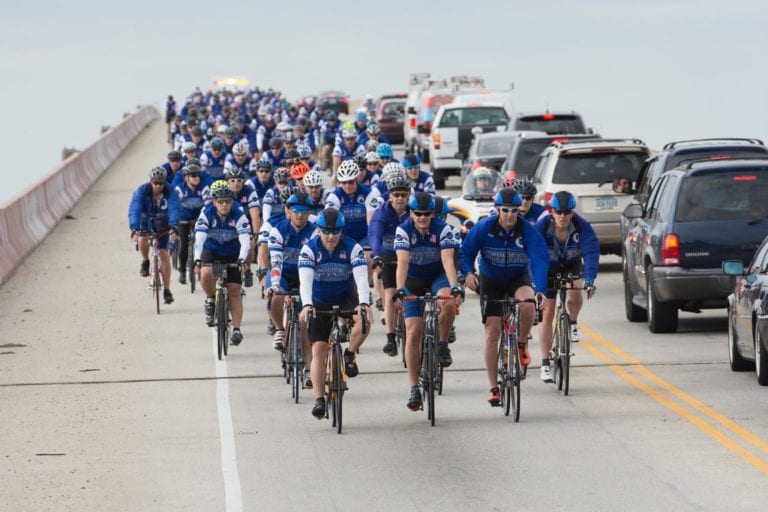 The 250-mile bike ride in May 2020 will raise awareness for officers who died in the line of duty and fundraise for the National Law Enforcement Officers Memorial and Museum.
Once again, Plant City Police are stepping up to the plate as they prepare to embark on a grueling 250-mile bike ride for the annual Police Unity Tour in May 2020.
The Tour was formed in 1997 by a group of law enforcement officers who rode their bicycles from Florham Park, N.J. to the memorial in Washington D.C. Every year since then, thousands of officers from around the country have joined the effort, weaving along the asphalt roads for hundreds of miles to raise awareness for those who died in the line of duty and to raise funds for the National Law Enforcement Officers Memorial and Museum.
"There's four of us total going this year," PCPD Officer Billy Harvester said. "Law enforcement is one of those brotherhoods that unless you've been involved in law enforcement or military or fire fighting or a first responder situation like that, there's a select handful of groups that you're so close, you spend so much time together and you're literally going to battle together. Whether it's our agency specifically or HCSO or TPD that have lost their lives protecting their community doing what they do, we want to do everything we can to honor them and their families. Frankly, it could be any of us. All of us know someone who has died in the line of duty. All of us know there's a chance one day it could be us. That's why we participate. We honor those men and women that have made the ultimate sacrifice. We show our appreciation and respect to not only them, but their families."
Over the past few decades more than $20 million has been donated to the Memorial and Museum, which makes the Tour the single largest supporter of the National Law Enforcement Officers Memorial.
Over the course of three days, thousands of officers from a variety of states and regional groups will hit the pavement. The PCPD team has two riders and two support and are hoping to raise at least $4,000 for the event.
This is not the first time PCPD has sent a team north for the event and Harvester said the hope is they'll be able to make this an annual event that raises thousands of funds for the memorial. Ideally anyone who wishes to participate would have the opportunity as long as the required funds are able to be raised.
It's a sight few ever forget and one Harvester said he's looking forward to seeing for the first time.
"It's a very emotional thing," Harvester said. "It's hard to even fathom or explain. Just stop and think about driving down the road or walking on the sidewalk and seeing thousands of officers on their bikes silently pedaling toward Washington. We'll pass by schools and businesses and people come out with signs and waving flags to show their support. It's motivating to these riders to see that support while they're putting in the work. You won't soon forget it."
The statistics on how many officers are killed in the line of duty are difficult to track. In May, the FBI released its latest statistics regarding officers who were killed and assaulted in 2018. More than 100 law enforcement officers were killed in the line of duty last year, which came out to be a 13 percent increase from 2017. Of those, 55 officers were feloniously killed and 51 died accidentally.
It's an event that strikes home for so many of our local officers, Harvester included. In 2010, a close friend of his who was a deputy at HCSO passed in the line duty. The community immediately rallied around his family and Harvester said he is still close to them to this day.
"That was probably the hardest thing I've had to do in law enforcement," Harvester said. "To go through that with them and watch them as a family endure in such a difficult time. Whoever it is, it hurts because it's a loss to our family. But when it's someone you're close to, well, that's just another level you aren't ready for. It's tough. It's not something you ever suspect, but you want to be that support mechanism for the family. That's what this is, we're all one family. We pride ourselves on being a united group. If one of us falls, we have their family forever, they're a part of us, too. We're all in it together."
To donate, visit firstgiving.com/team/394281. PCPD will accept donations until April and Harvester and his team will be active around the community at events, raising awareness of the issue and accepting donations for the Tour.