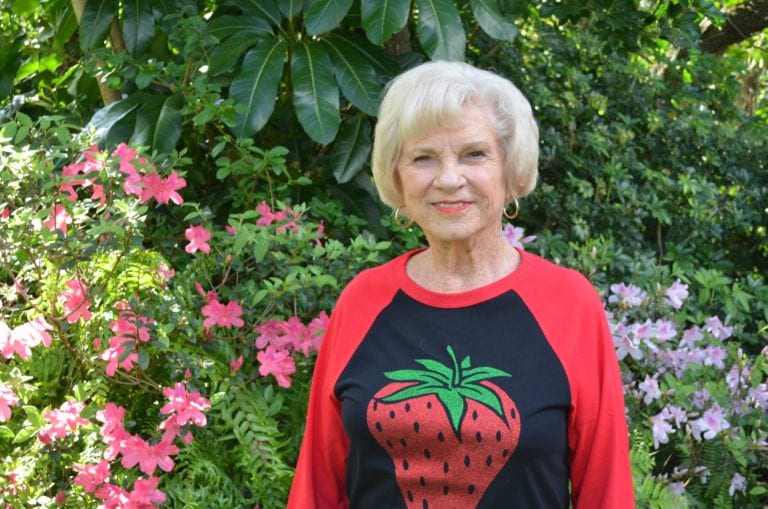 Bettye Jean Manee has spent more than 60 years working at the Florida Strawberry Festival, making her one of the longest serving volunteers in festival history.
Bettye Jean Manee remembers being four or five years old and rushing through the Florida Strawberry Festival to get to the merry go-round with her parents.
The Strawberry Festival was the first fair Manee remembers ever going to and her earliest memories are of when it was held in a parking lot where the court house used to be in town. As she grew, so did the beloved festival. It moved to an open lot near Jackson Elementary, which later became home to the Sullivan's Filling Station and eventually ended up at its current location on North Lemon Street.
"My earliest memories of the festival are when it was in a lot probably the size of where Buddy Freddy's is now," Manee said. "They had a merry-go-round, cotton candy, ponies and few vendors where you could buy things like donuts. It was nothing like it is now."
Of course, there have always been fresh strawberries for sale.
Growing up, she recalls going out with her friends for Strawberry Queen in the old Plant City High School, now the 1914 building. She wore a dress her mother made by hand and while she didn't receive the crown many of her friends did, a fact she said some of their husbands would gently poke fun at for decades to come.
While attending the University of Florida as a cheerleader Manee fell in love with a young football star named Harry. When they married, his military career took them to South Carolina where Manee used her college degree to teach at a local school.
It wasn't until they returned to Plant City and she began teaching at Bryan Elementary School in 1955 that their volunteer days truly began at the festival.
At first, she parked cars at Bryan while working there as a teacher to help raise money for the school. Then she and her husband began fitting in shifts at the trams to their already busy schedule. They would work the trams every nights and then on Sundays after church would pile into an information booth and help the incoming guests.
After he died Manee shifted to work the incoming tour buses and eventually gravitated toward the information booth inside the main hall. No request was too small and if someone still seemed confused after getting directions from Manee she'd simply climb out of the booth and take them there herself.
"I am real proud of our festival and what it stands for," Manee said. "People are there because they want to be, they work because they like showing others how great it is. Now we have the ambassadors, which is such a nice thing. I would always advise to go ask someone in a red vest if you need help. They are there for a reason and would absolutely love to help you out."
She's 87 years old now and up until last year, when health concerns got in the way, she had never missed volunteering at the festival, accumulating more than 60 years of experience at the berry festive event.
Her health is once again having her sit on the bench this year, but Manee said if it weren't for "these pesky little health problems" she would still be picking up as many shifts as she could to help newcomers fall in love with her cherished festival.
After all, she watched her own family grow up at the festival and some of her fondest memories involve her and Harry trailing behind their children as they raced from ride to ride and food stand to food stand.
"There have been so many memories over the years," Manee said. "As a family we would always get some good food, like the elephant ears, and I remember one of our favorite things was taking our kids on the Midway. When they got old enough to drive their own bumper cars we would gang up on their dad. We all loved that."
They bought tickets to every show and if they weren't working were more than likely somewhere on the grounds taking in the festivities. Of the hundreds of shows she's seen over the years she said one of her all-time favorites will always be country legend Neal McCoy.
Growing up with the festival Manee said she always knew it was something special, but even so she never expected it to become the massive undertaking it is now.
Guests come from all over the country with many using their vacation time to spend a few days in Plant City. It's an honor she believes the city has earned and it's crucial incoming volunteers remember what they're representing when they put on that red vest.
"If you volunteer, you are representing the festival and everything it stands for," Manee said. "People don't come here for the food or the rides, they come because of the way we make them feel. When they're here, it's almost like they're family. That's so important to me."
It's a formula others have attempted to replicate, but have always fallen short. She remembers when nearby fairs began attempting to offer the same kind of entertainment the Strawberry Festival had become known for. She believes it's a testament to the ingenuity of the festival's leaders over the years that so many have begun to mimic its qualities.
Through it all, simply meeting the diverse group of people that flooded through the gates every year was always the part she cherished most of all. The majority of the encounters were always pleasant, though she said occasionally when someone would ask where to buy a beer and she would have to tell them how to leave the park, cross the street and head to a convenience store they would sometimes get annoyed.
She loved watching families excitedly take in the sights and is proud of the reputable nature they've been able to successfully maintain for the festival. It's an experience unlike any other and she said she wouldn't be surprised to find the following generations are just as enamored with it as she is.
"The atmosphere is clean, friendly, it's so well taken care of," Manee said. "It's clean and the police are looking after it. People feel safe here and it's still kept that country atmosphere. When people in Plant City show how much they love it I think the visitors can't help but love it, too."